Happy finals week!
This past weekend, (the last weekend of the school year 😥 ), my friends and I celebrated Christmas together!  On Friday, we exchanged gifts for Secret Santa, and on Saturday, we all dressed up in Christmas sweaters.
Secret Santa was so much fun!! Katie was my secret santa, and she gave/made me an adorable hand-decorated mason jar tumbler.  She knows I love smoothies (I make one every morning for breakfast); her thoughtfulness makes her gift even more perfect! 🙂 I loved seeing everyone's reactions when they opened their gifts.  Everyone was so thoughtful in giving, and the gifts were perfect – some hilarious, some adorable!
Here is a photo we took on Friday after exchanging gifts… I was already in my pajamas 😳


Left to right: Me, Jess, Cait (black shirt), Shannon (white shirt), Katie (black shirt), Natalie, Emily, Kate (gray sweater), Abby (red sweater)
On Saturday we all dressed up for Christmas and celebrated early! I went to my room for a little while to work on homework, during which time the others built a gingerbread house and sung Christmas karaoke!  I came back down in time to watch It's A Wonderful Life 🙂 Here is a photo of us in our Christmas sweaters!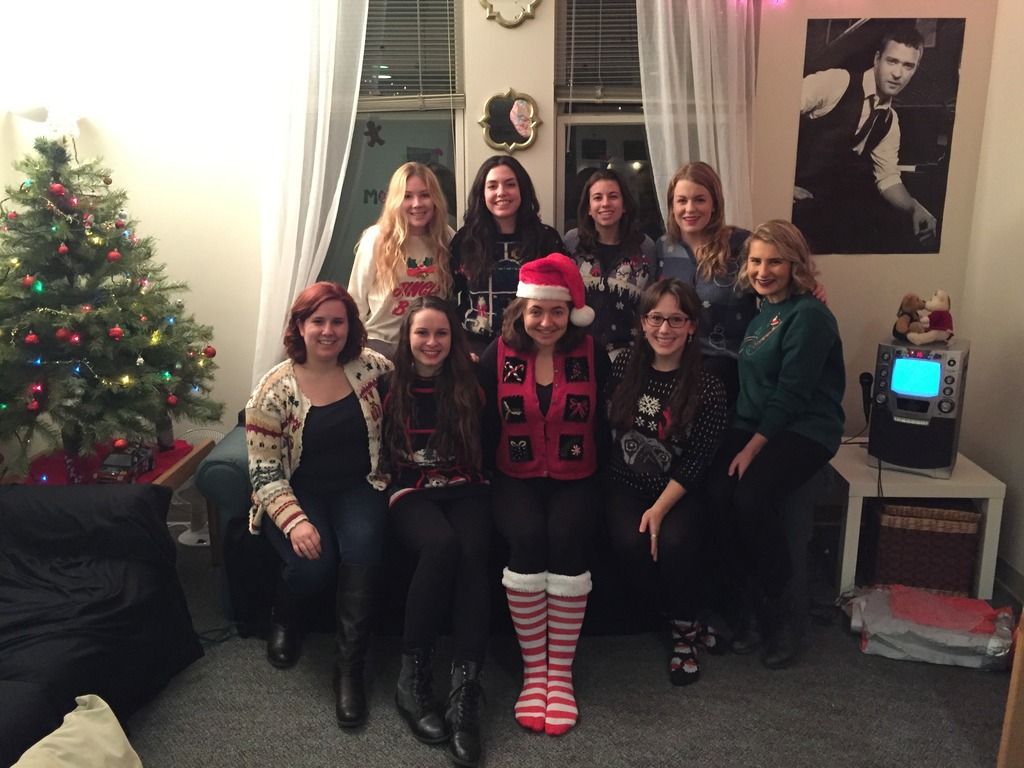 Left to right: (Top Row) Kate, Jess, Natalie, Emily (Bottom Row) Abby, Cait, Me, Shannon, Corinne
Sunday was the annual Advent Mass and Tree-Lighting Ceremony.  I went to the mass, which took place in the Byron center; there were so many people, as usual, and the mass was beautiful, also as usual!  Immediately after the mass was the Tree-Lighting Ceremony on the Dionne Green.  Check out this beautiful picture of the tree, courtesy of Natalie (thanks Nat!):

Monday was the last day of classes, which I still cannot believe… 🙁
Finals started Tuesday, and the last finals are on Saturday.  I have one final every day except Saturday, so wish me luck!
As I promised last week, I have a very exciting announcement… next semester (this upcoming spring), I will be studying abroad at the University of Edinburgh in Scotland (!!!).  I cannot wait for the experiences I am going to have, and I look forward to sharing them!
Good luck on finals – show your professors how much you know!
Have a safe and blessed Christmas and a very Happy New Year 🙂 I'll be back next year… from Scotland!
– Tori