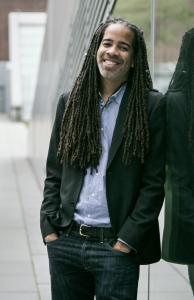 On Monday, February 24, Jonathan Gray will give a talk entitled "Living at the End of History: HBO's Watchmen and African American Citizenship" at 5:30pm in Pearn Auditorium (BRN 228).
The Watchmen has been a cultural touchstone ever since its release. In his talk, Gray will explore how the recent critically-acclaimed HBO series explores notions of race and citizenship.
Jonathan W. Gray is Associate Professor English at the CUNY Graduate Center & John Jay College, CUNY. He is the author of Civil Rights in the White Literary Imagination (Mississippi) and is currently working on Illustrating the Race (Columbia), an investigation of Black representation in comics published since 1966. Prof. Gray co-edited the essay collection Disability in Comics and Graphic Novels for Palgrave McMillian and contributed the chapter on Race to the forthcoming Keywords in Comics Studies (NYU). He is a founding member of the MLA Forum for Comics and Graphic Narratives and founded the Journal of Comics and Culture (Pace).