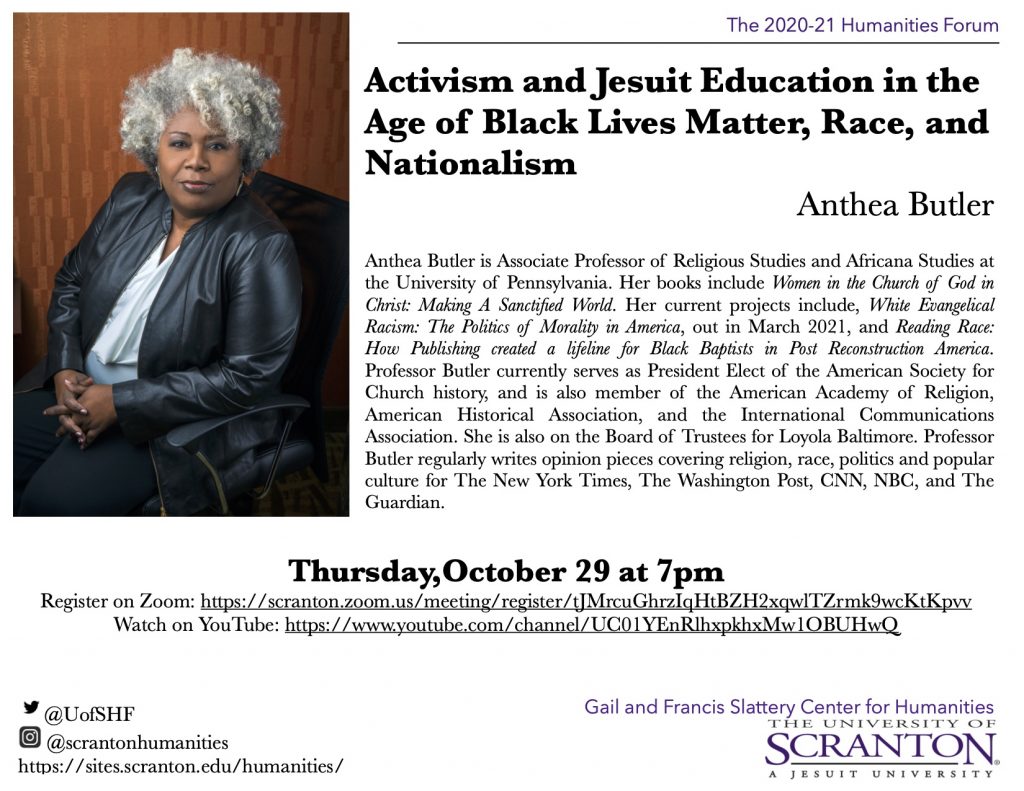 On Thursday, October 29 at 7pm, the Slattery Center for Humanities and College of Arts and Sciences welcome Dr. Anthea Butler for the first Humanities Forum of the year. Dr. Butler will give a talk entitled "Activism and Jesuit Education in the Age of Black Lives Matter, Race, and Nationalism" on Zoom and live on YouTube. The talk is open to all Scranton students, faculty, and staff, as well as the community.
You can stream the talk from our YouTube channel, here: https://www.youtube.com/channel/UC01YEnRlhxpkhxMw1OBUHwQ
Anthea Butler is Associate Professor of Religious Studies and Africana Studies at the University of Pennsylvania. Her books include Women in the Church of God in Christ: Making A Sanctified World. Her current projects include, White Evangelical Racism: The Politics of Morality in America, out in March 2021, and Reading Race: How Publishing created a lifeline for Black Baptists in Post Reconstruction America. Professor Butler currently serves as President Elect of the American Society for Church history, and is also member of the American Academy of Religion, American Historical Association, and the International Communications Association. She is also on the Board of Trustees for Loyola Baltimore. Professor Butler regularly writes opinion pieces covering religion, race, politics and popular culture for The New York Times, The Washington Post, CNN, NBC, and The Guardian.
We hope you will join us for this timely and engaging talk.