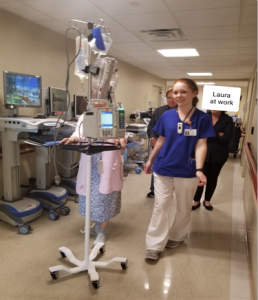 This summer, I had the opportunity to intern at Memorial Sloan Kettering Cancer Center, in their clinical assistant program (CAP). I worked on the colorectal unit for 9 weeks under the instruction of my preceptor. Words cannot describe just how much I learned throughout my time at MSK; it far exceeded any expectation that I had for the program. The guidance that my instructor showed me throughout every single 12-hour shift was exemplary, and the nurses on the floor were very welcoming. The staff knew I was eager to learn, and so they would pull me aside if there was something interesting to see or do. The CAP program allowed me to shadow one nurse and see how he executed the tasks of the day. I got to learn how my preceptor organized his patient assignments, assessed patients, timed administration of medication, prepped patients for procedures and gave hand off to the next shift nurse.
Being on a colorectal unit, I had patients with all kinds of cancers and tumors of the GI tract. It was a really amazing tie in that all the diagnoses, surgeries, treatment modalities, tubes and drains I was observing, I had just learned about in the GI med-surg lecture this past spring. Therefore, it was amazing to take what I leaned in the classroom and witness/apply it in practice! Even though it was a colorectal floor, I got nursing experience with many other diseases and cancers as well, from lung cancer and breast cancer, to bladder cancer and melanoma. I had the pleasure of taking care of patients who were here for a prophylactic surgery due to a genetic predisposition of a disease, all the way to end of life and hospice care of patients.
I learned SO much from my patients and their families. I laughed as they told me stories, I smiled as they showed me pictures of their children or grandchildren, I cried many happy tears and many sad tears. These individuals were here to be taken care of in the most vulnerable time; however, these patients meant more than their diagnoses. They had children at home, jobs they had to take time off from, and lives that were impacted in far more ways than I can ever imagine. So, when patients asked me if I could come back in to take care of them, it was an indescribable and rewarding feeling. I had a patient's wife tell me that she finally felt comfortable enough to leave her husband at the hospital and run home to finally catch some sleep. I was so honored that these individuals allowed me to come into their life and help them in their time of need. One of the best feelings is making someone smile on their hardest days. Sometimes it is the little things like listening to what they have to say, that makes all the difference.
Throughout the program, I gained experience with patient interactions, establishing rapport, patient education, nonpharmacological interventions, and many post op considerations. I learned about so many amazing surgeries and procedures that could performed, and new research that is being done. I gained experience with skills such as  medication administration, colostomy care, pleurX drains, ileal conduits, PICC lines, mediports, chemotherapy and infection risks. I also learned about psychosocial concerns, ethical concerns, cultural considerations, interprofessional communication, teamwork and collaboration. Above all, I learned what it means to be empathetic. It was so neat to take the skills that I learned here at the university and build upon them in a hospital setting!
My experience at MSK was such an amazing hands-on opportunity, and I know that I will take what I learned there and apply wherever I go. I learned what it means to be a nurse and how vital a nurse's role is in patient care. My internship was an experience that I will never forget!