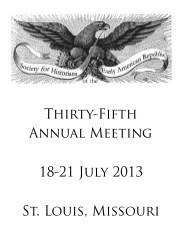 In a recap of the most recent meeting of the Society for Historians of the Early American Republic, the blog The Junto, cited Dr. Adam Pratt, the department's newest member, as one of the highlights of the conference:
Adam Pratt then gave one of the most intriguing papers I heard all weekend, looking at the Georgia gubernatorial election of 1831.  The paper centered around the issue of whiteness, and how the campaign of George Gilmer attempted to impose a definition of whiteness that didn't reflect the polyglot population moving into Cherokee land to mine for gold. This ended up costing him the election, losing to a more egalitarian campaign by Wilson Lumpkin that promised equal access to the resources of stolen Cherokee land. The twist came in policies followed after Lumpkin's victory; Lumpkin would dilute his implied egalitarianism by insisting on excluding mixed-race individuals from the gold rush—even relying on the Georgia Guard, whose violence had led to disgust with Gilmer, to enforce the racial order. This highlighted what Pratt called 'the malleable nature of whiteness', and I'll be fascinated to see how (or even whether) this malleability has broader national importance.
Checkout the full recap here.