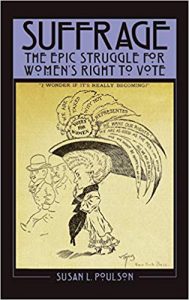 Dr. Susan Poulson's new book, titled Suffrage: The Epic Struggle for Women's Right to Vote, has recently been published Praeger and is now available.
The fight for women's suffrage was a long and colorful struggle, beginning with a small number of women and men who put forth the radical idea of treating women as political equals at the Seneca Falls Convention of 1848. After the Civil War, an informal alliance between abolitionists and women's rights reformers broke over the Fourteenth Amendment, which inserted the word "male" into the U.S. Constitution for the first time.
Several Western states permitted women to vote—Wyoming was the first in 1869—but national suffrage did not come until women formed a mass movement, with growing militancy, that put increasing pressure on a reluctant political establishment. After Tennessee became the final state to ratify in a dramatic vote at the state's capital, twenty million American women were able to go to the polls in the fall of 1920.
This book has been several years in the making, with visits to over a dozen archives across the nation to highlight several of the intriguing citizens who favored and opposed the suffrage movement. The struggle mirrors the changing views and norms for American women from the mid-nineteenth to the early twentieth-century and provides background for the continuing evolution in gender roles today.
Congratulations to Dr. Poulson.