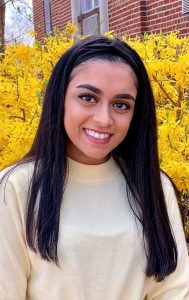 Hi! My name is Minahil Sami and I have been awarded a University of Scranton President's Fellowship for Summer Research (PFSR). This summer I am working in Dr. Seid's lab on my project titled, "Immunological Priming for Bacterial Strain Specific Effects in Ants."
Immunological priming is a new and expanding area of research that focuses on the phenomenon of a heightened immune response within invertebrate systems after an initial encounter or 'priming' with a pathogen. Invertebrate immune systems have traditionally been labeled as simplistic due to the lack of immunoglobins. The concept of immune priming in invertebrates is analogous to vaccination in vertebrate systems. Previous research has successfully used ants as a model for immune priming, but there is no literature on the specificity of the immune response in differentiating between a secondary exposure to an antigen different to that used to initially vaccinate.
This summer, I aim to observe the strain-specific effects of immune priming on individuals by manipulating the species of bacteria during the secondary immune challenge stage in the larvae of Camponotus floridanus. Ants encounter bacterial pathogens daily; two of the most prevalent species include the Gram-negative bacteria Serratia marcescens and Escherichia coli. I have isolated said strains from soil samples and inoculated them to specified concentrations. Over the course of the next few weeks, immunologically primed ant larvae will be cross-exposed to the two different species of Gram-negative bacteria and then challenged with a lethal dose of a known pathogen. The results of this experiment bring may bring us one step closer in uncovering the immunological mechanisms of insect species.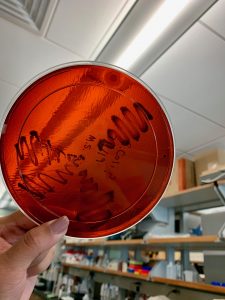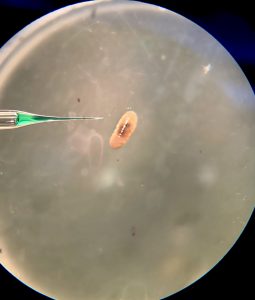 The University of Scranton's President's Fellowship for Summer Research is one of many avenues of research presented to undergraduates and I am thankful for the opportunity to further my skills in the lab. The fellowship has provided incentive, helped to defray my cost of living, and has helped me to purchase materials needed for my project. I hope more students to come can benefit from the outstanding faculty and research labs at the University as I have. I look forward to presenting my results to faculty and peers at the next annual Celebration of Student Scholars event. Finally, I thank both Dr. Seid and Dr. Crable for overseeing my project and for their one-on-one mentorship.