Hi! My name is Katie Insel, and I am a senior Physiology major with a minor in Psychology. I am excited to be graduating in May 2022.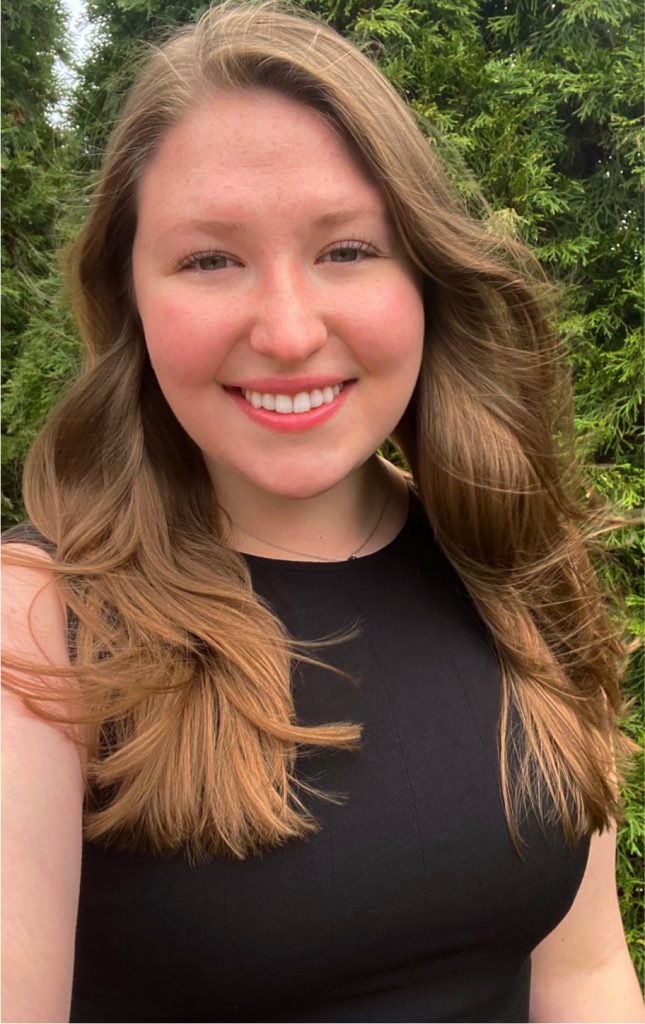 Throughout my childhood I had a love for science and for helping people. I began volunteering and working as an Emergency Medical Technician (EMT) during my sophomore year of high school to explore a career in emergency medicine. This experience, combined with a high school anatomy course, instilled in me an excitement for applying science to medicine – which is why I chose to study Physiology. I knew that my future career in medicine would heavily center upon my understanding of Physiology, and so a Bachelor's in Physiology was the right move for me. Not many schools offer a Physiology major, and I was excited to find this opportunity at The University of Scranton.
When I first came to Scranton, I knew I wanted a career involving a leadership role in medicine, but did not yet know in what capacity. The physiology curriculum maintains a focus on physiology, and incorporates a variety disciplines from which students can choose. This prepared me for high-level physiological thinking and allowed me to structure classes around my own special interests. Physiology draws upon the same knowledge base as Biology but views it from the perspective of the functioning body. This is a rare perspective to gain at the undergraduate level, and it stands out to graduate schools and employers. It has fundamentally shaped my future career.
I have especially enjoyed the journey I have taken, which has incorporated classes like Advanced Human Anatomy and Physiology, Cellular and Integrative Physiology, Comparative Vertebrate Anatomy, Genetics, Microbiology, and Cardiovascular Physiology. The flexible structure of the curriculum and my passion for the subject enabled me to take classes year-round and to graduate in three years instead of four. I've continued to work as an EMT through college, and the applicable knowledge that the University of Scranton's Physiology program has provided me with has made my work even more fulfilling.
As I complete the physiology curriculum, I will meet the requirements for applying to many graduate programs (medical, physician assistant, advanced nursing, physical therapy, and more), or I can choose from a wide range of opportunities in the workforce. As a University of Scranton Physiology major, I feel prepared to apply what I have learned in a variety of settings.
The Physiology major is also a close-knit community. In my experience, Physiology students receive more individualized attention and opportunities. Students share many of the same classes, which has led to an amazingly supportive social network that promotes open exchange of ideas and broadens connections with classmates and professors. Fostering close relationships with professors and other students has given me opportunities to explore research, gain experience as a teaching assistant, and partake in many other fulfilling challenges like peer tutoring and being Treasurer of the Physiology Club.
My professors have provided advice that has helped shape my future. For example, as I was exploring options for the year after I graduate, I debated whether to apply directly to graduate school or to take some time off and work.  One of my professors advised me to find an article on a topic that truly moved me and to use the authors' credentials to see what degrees they had pursued. The writings that affected me most were from authors who were Doctors of Nursing Practice (DNP), and I decided to take the path to become a DNP in Emergency Medicine. I applied to an accelerated nursing program starting in the fall and was accepted into my first-choice school.
These are the things that immediately stand out from my experience as a Physiology major at The University of Scranton. There are many other things to be said. I have had an abundance of opportunities, received exceptional support from students and professors, and have been given the flexibility to maximize the power of my degree. Physiology has allowed me to explore my passions and making meaningful progress toward my goals.