Research students in Dr. Bryan Crable's Microbial Physiology Group at the University of Scranton presented their research this summer at the American Society of Microbiology's Microbe 2019 in San Francisco, CA.  Their study, "The Effects of Polystyrene Microparticles on Growth of Model Enteric Bacteria" was well-received.  The students met investigators from the Air Force Research Laboratory, the University of Oklahoma, and the University of California, Berkeley.  
The American Society of Microbiology represents over 20,000 microbiologists from around the globe and is the world's largest life sciences professional society.  Highlights of ASM Microbe 2019 included an opening lecture from 2018 Nobel Laureate in Chemistry Dr. Frances Arnold (Caltech) and a symposium lecture by Director of the Wisconsin Institute for Discovery, Dr. Jo Handelsman.  Dr. Arnold's talk focused on her research evolving enzymes to do novel chemical reactions.  Dr. Handelsman's talk focused on her experience going from an undergraduate student at Cornell University who was told "girls don't do science" to Full Professor at Yale and a three year appointment as President Barack Obama's Associate Director for Science.
Rising senior Biology major Toby Ippolito had this to say about the meeting:
"The opportunity to attend ASM Microbe 2019 allowed me to take an important step in my professional career.  Presenting our study to those interested in our research required a thorough understanding of the project.  I expanded my personal knowledge of Dr. Crable's research and had the opportunity to share our work with the scientific community.  ASM Microbe 2019 provided an opportunity to interact and network with leading researchers from around the globe."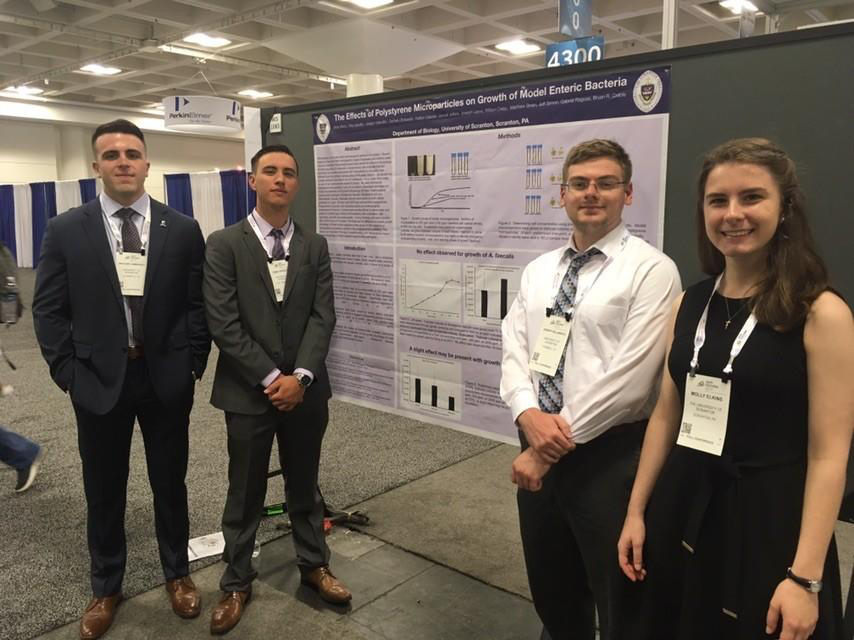 Students in attendance from left to right:  Rising senior Zachary Zimbardo, rising senior Toby Ippolito, rising junior and lead author Molly Elkins, and rising senior Joe Vellardito.
The study presented was:
Elkins, MK, T Ippolito, J Vellardito, Z Zimbardo, K Cebular, J Jeffers, J Layou, W Oxley, M Strein, J Simon, G Ragusa, and BR Crable.  2019.  The effects of polystyrene microparticles on growth of model enteric bacteria.  ASM Microbe, San Francisco, CA
The students' poster is on display outside Loyola Science Center 373.