Pursuing a college degree requires students to study and learn material in a specific discipline. In doing so, students hope that they will gain the credentials necessary to acquire a job post-graduation. A student's pursuit of knowledge is a fantastic start, but he or she should also acquire experience when pursuing a career in the field of strength and conditioning.
The most challenging aspect of my summer internship with The University of Connecticut Men's Basketball Program has also been the most rewarding. In strength and conditioning, there are numerous methods of achieving similar results. While there is no method that is one-hundred percent correct, a coach who programs trainings with a purpose, a specific reason for choosing "Method A" rather than "Method B" will probably receive better and more efficient results than a coach who does so without a purpose.
In my attempt to understand the purpose of the "why" in the strength and conditioning program, I have asked multiple questions, read suggested articles, and studied the athletes' programming. In doing so, I have been a student under the direction of Coach Sal Alosi throughout the summer and have accumulated a wealth of knowledge. Furthermore, the ability to apply this knowledge in working with collegiate athletes has granted and exposed me to invaluable experiences that I believe will be extremely beneficial to me in my pursuit of a career in the field of strength and conditioning.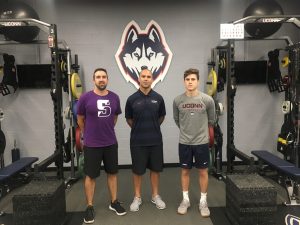 Blake Hammert
Exercise Science