As I reflect back on the past several weeks spent as a therapy intern at Island Dolphin Care (IDC) in Key Largo this summer, I can honestly say the most rewarding aspect has been the feedback we've gotten from our clients and their families as to the lasting difference the dolphin-assisted therapy has made in their lives. Testimonials from military veterans rave about how their sleep has improved and their anxiety has decreased after participating in therapeutic swim sessions with our dolphins. Some parents say that IDC is the reason their otherwise non-verbal children were able to speak. Children themselves say that they are thankful for IDC because it gives them the rare opportunity to just be a kid without being too restricted by their health limitations. I am proud and very thankful to have been part of the Island Dolphin Care family this summer.
The most challenging part of this internship is having to say goodbye to the amazing clients with whom we work. Most of our clients stay for a 5-day therapy program during which we are privileged to be invited into their daily lives. We get to know these clients and see their improvements over the week-long therapy sessions, but every Friday when it is time to say goodbye, there are tears in everyone's eyes. I can now say that I have made friends from all over the world including Puerto Rico, Germany, England, and Poland! It is wonderful that the dolphins operate in a universal language and have a way of touching everyone's hearts.
My summer internship at Island Dolphin Care has flown by faster than I ever would have imagined, and I am forever grateful for the experience to work side by side with the therapists … both human and dolphin! I am also thankful for the support of the Royal Experience program to have had this life-changing intern experience.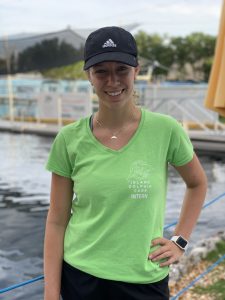 Claire Jarvis
Occupational Therapy