I have been interning at the Montgomery County Detective Bureau for almost an entire month and so far, I have learned so many crucial and interesting things about the criminal justice system and about my community as well. While my brain has been filled with so much knowledge already, I hope to learn more as the weeks carry on.
One of the main things I hope to learn more about is how intricate the criminal justice system is. Most people think the Detective Bureau is just one big unit; however, there are units in the Detective Bureau that I had not known about before I started working there, so I am excited to learn more about them and what their specific job is. The other interns and I cycle through each unit every two weeks, so I hope to be placed in one of those unfamiliar units soon.
I also hope to learn how I can make the biggest impact on the Detective Bureau in my own way. Sure, everyone can walk into that office with a major in Criminal Justice just like me, but I want to learn how to stand out. I want to learn how to bring something new to the table that will change the Detective Bureau or the criminal justice system in general for the better.
Gaining this knowledge will propel my career path into what I'm hoping will be new job opportunities that no one has really heard of before. For example, one of my main intended career paths is crime analysis. This is still a relatively new aspect in the system, when I tell some of the detectives what I'm doing and how I'm doing it, they have no idea what I'm talking about. Therefore, I'm positive that if I'm given the opportunity to offer something new like that, it will not only help those who have been working in the criminal justice system but will also help those who want to work in the system like me to have access to more career opportunities.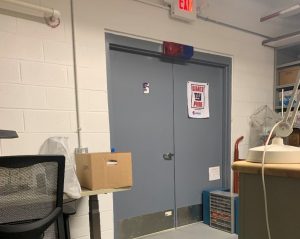 While I was stationed in the Forensics Unit, I got to go to the room where they test firearms that have been brought into evidence and look what I saw on one of the doors! One of the detectives in that unit actually went to Scranton!
Clare Maguire '23
Criminal Justice