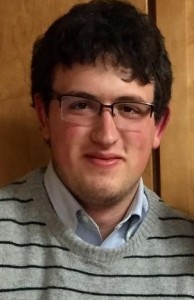 Chris Kustera (BA 2015) may have double-majored in BCMB (Biochemistry, Cell, and Molecular Biology), but he also found a way to make the English department home. He not only earned a minor in English, but he was also one of the editors of Esprit, our campus literary magazine.
The good news for us is that Chris, for now at least, plans to stick around campus another year. In his own words:
"I am currently planning on remaining at The University of Scranton as a Graduate Teaching Assistant in the Chemistry Department next year. This position includes a full-tuition scholarship for my masters degree in Biochemistry. I am currently on the waiting list for Jefferson/Sidney Kimmel Medical College, and I may be in Philadelphia if I get of that wait list for the current matriculation year."
We wish Chris the best, and we're glad to call him, at least partly, one of our own.