On November 15, 2018 at 5:30 p.m. in Leahy Hall, room 235, writer Christine Friedlander will be on campus for The University Reading Series.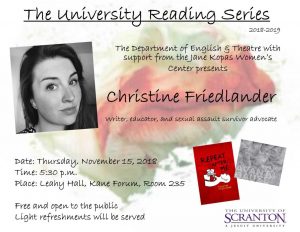 Christine Friedlander
from her website biography
FRIEDLANDER is a writer, educator, and overall enthusiast from northern New Jersey. In the event of a water emergency, she may also be used as a flotation device. Christine holds degrees from the University of Minnesota and Bucknell University, and is the author of REPEAT AFTER ME (Winner of the RopeWalk Press Editor's Prize, 2017) and AVANT GAUZE (Magic Helicopter Press, 2016).
The event is Thursday, November 15th, at 5:30 p.m. in Leahy Hall, Kane Forum – room 235.