This summer, I am interning with Wasserman in Raleigh, North Carolina. Wasserman is a sports marketing agency that has offices around the world and is headquartered in Los Angeles, California. There are three parts to Wasserman's business – talent, properties, and brands.
Wasserman employs agents to procure and negotiate endorsement opportunities for top athletes in professional sports. They represent athletes including Andrew Luck, Russell Westbrook, and Giancarlo Stanton. Wasserman works with sports properties to drive innovation and elevate partnership opportunities. Properties include leagues, teams, entertainment studios, and broadcast networks. The third part of Wasserman's business is brands. Wasserman works with many Fortune 500 companies to help achieve the brands' goals with their sports marketing programs.
I was assigned to work in the brands division at Wasserman with a client that is a Forbes Top 100 list company. The client has partnerships with many teams in professional sports including: MLB, NBA, NFL, NHL, and the PGA TOUR. Over the past few summers, I worked with motorsports properties on the East Coast. I hope to work for NASCAR at some point in my career, but I have wanted to work with a sports marketing agency for a very long time. Rather than focusing on one sport, Wasserman has allowed me to learn about the business behind many popular sports in the United States. I hope to use this knowledge of sports business in a full-time role with a sports marketing agency after college and hopefully one day with NASCAR.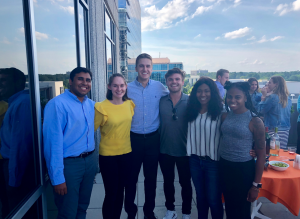 Mark Miller
Marketing and Business Administration