Throughout my time interning for the Sussex County Miners, I have been exposed to the intricacies of what it takes to operate a successful baseball team, which has opened my eyes to the reality that the baseball industry is as grueling as it is entertaining.
That being said, my internship has undoubtedly been sprinkled with challenges, some expected and many not, but none that I was not able to overcome. The toughest of these challenges was adapting to the fast-paced, "never-sleeping" environment that is professional baseball. Schedules are planned months in advance, and once a game begins, there is very little—even torrential downpours in some cases—that will stop it, causing everyone to work at full speed during all hours. As challenging as this may have been, I found it to be equally thrilling, as it pushed me to my limits and allowed me to see what I was capable of. I guess the 6 a.m. tarp pulls to cover the field from rain weren't too much fun either though!
Although challenges appeared occasionally, my experience has most definitely been more rewarding than challenging. The most rewarding aspect of interning with The Miners would be the fact that I was truly shown and able to learn about all the different aspects that go in to running a baseball organization. From working the box office, to making group sales, to booking vendors, to working with the media and broadcasting managers to shadowing the General Manager, so much knowledge was shared with me, and I found that you will learn even more if you have genuine conversations with the people doing these jobs. I think it's safe to say that my internship has helped prepare me for whatever is to come in my future, and for that I will always be grateful!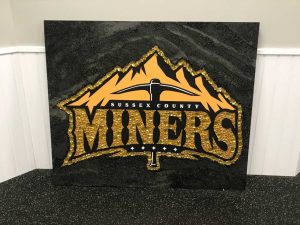 Jillian Wall
Strategic Communication