When Sigma Tau Delta members Lindsey Pelucacci, Maria Cleary, Lizzy Polishan, and Alex Wasalinko first read this year's Common Reader–Simon Ortiz's book of poems, From Sand Creek–they wanted to discuss it with other readers.  So last fall they organized a round table discussion of the book for a dozen interested readers;  then they took their show on the road–to Albuquerque for the national convention, where they met Simon Ortiz.  Then they came back to Scranton, and presented the results of their study in a poster at the 15th Annual Celebration of Student Scholars, May 5, 2015.
Their discussion, which ranged across cultural and philosophical borders, aimed to "break down the borders" between Native American and Western thought
.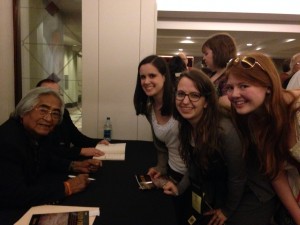 –Student members of Sigma Tau Delta (Lindsey Pelucacci, Alex Wasalinko, and Lizzy Polishan) meet Simon Ortiz (left).