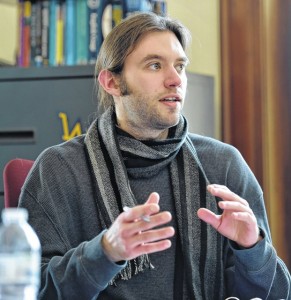 Francisco Tutella is new to our department — where he's teaching writing classes — but he's been making his mark in the region for a while now. As a graduate of the Wilkes University MFA program (suddenly famous thanks to its alum Marion James winning the prestigious Man-Booker Prize ), he has been a part of the area's creative writing community for the last few years, and he's at work on a novel in the speculative fiction vein. He is also the subject of a recent Wilkes-Barre Times-Leader profile.
As the article puts it:
Tutella is currently working on the eighth revision of his novel, which began as the creative aspect of his MFA, and he'll be seeking a publisher in the future. The work, as he describes it, is a speculative fiction about a love story that occurs during a partisan movement in Italy after the dissolution of the European Union and a financial takeover by Germany.
In addition to working on his novel, Tutella teaches an intensive writing course at The University of Scranton and conducts a weekly workshop at Wilkes called "Beginning the Novel."
To read the rest of the article, check out the following link.