Congrats to BCMB (Biochemistry, Cell, and Molecular Biology) major — and English minor — Dillon Vita whose story, "Regan," has appeared in the current issue of Foliate Oak, a literary magazine published out of the University of Arkansas-Monticello.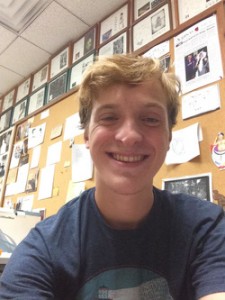 Here's an excerpt:
Suddenly a doll is inches from her face. Old and worn. It must have spontaneously generated because at no point did she see Regan walk in with it. "Here!" The thread, which serves both as the outline of the pupil and as a means of attachment to the rest of the felt head, is loose so that the whole button sags: a new wrinkle in the face of the doll cleverly named Regan. Three Regans is too many Regans. "You take it."
And you can read the whole of the story at Foliate Oak.
We're proud of Dillon, and we look forward to continued strong work from him in the year and a half we get to keep him around.