Slot Canyons I: Buckskin Gulch
Our first experience with slot canyons started like most other days, except we were more sleepy and disgruntled than usual. The day before had been a nine-mile hike out of the Grand Canyon, and we were still feeling it. We hopped out of the van into a cold, blustery day. Everyone bundled up for the trip, wishing we were still in bed.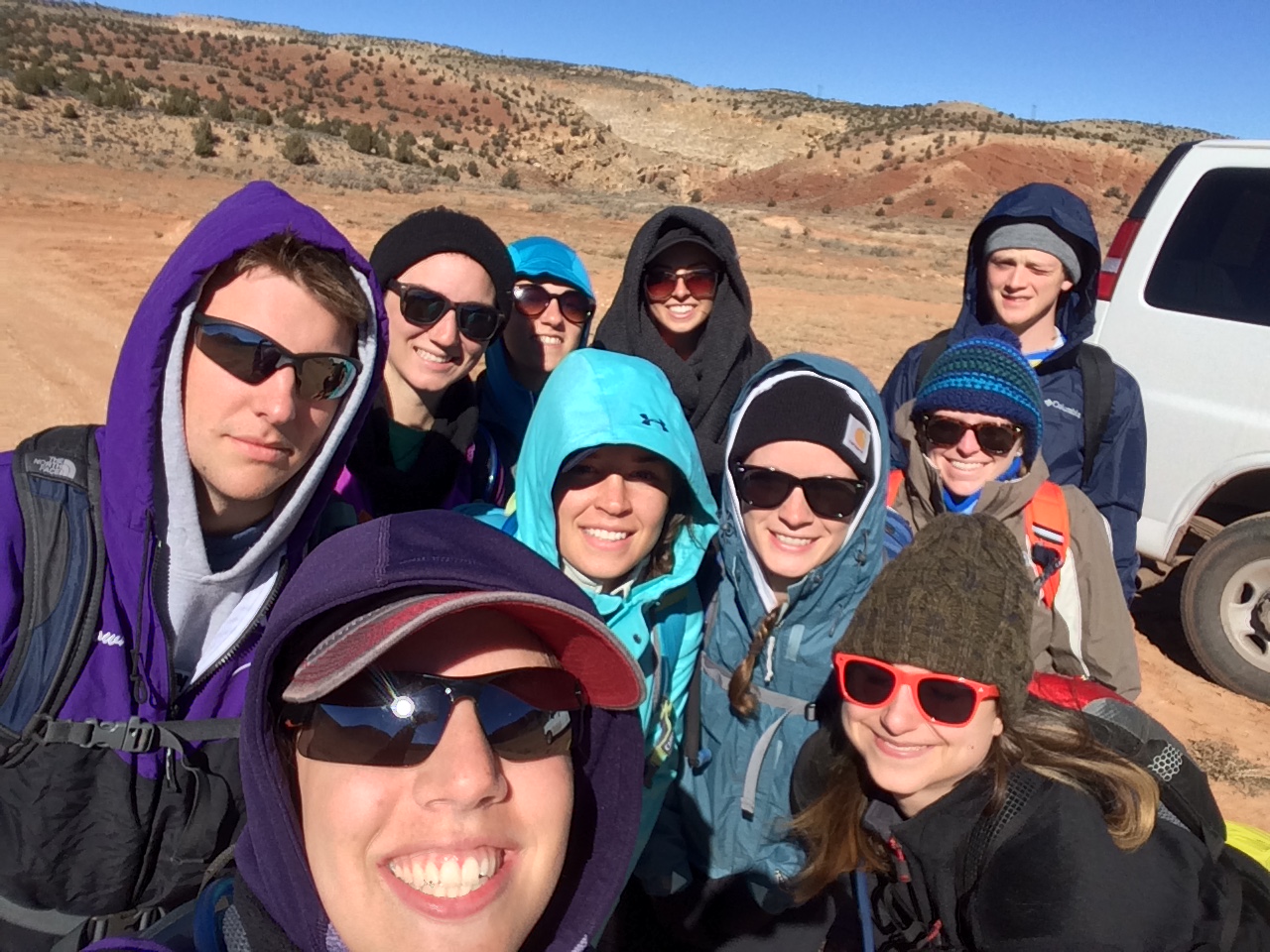 There was no blazed trail to the slot canyon, so we followed a narrow footpath along a riverbed. They trail eventually faded away, and we had to make our own trail (something Sweeney was more than comfortable with).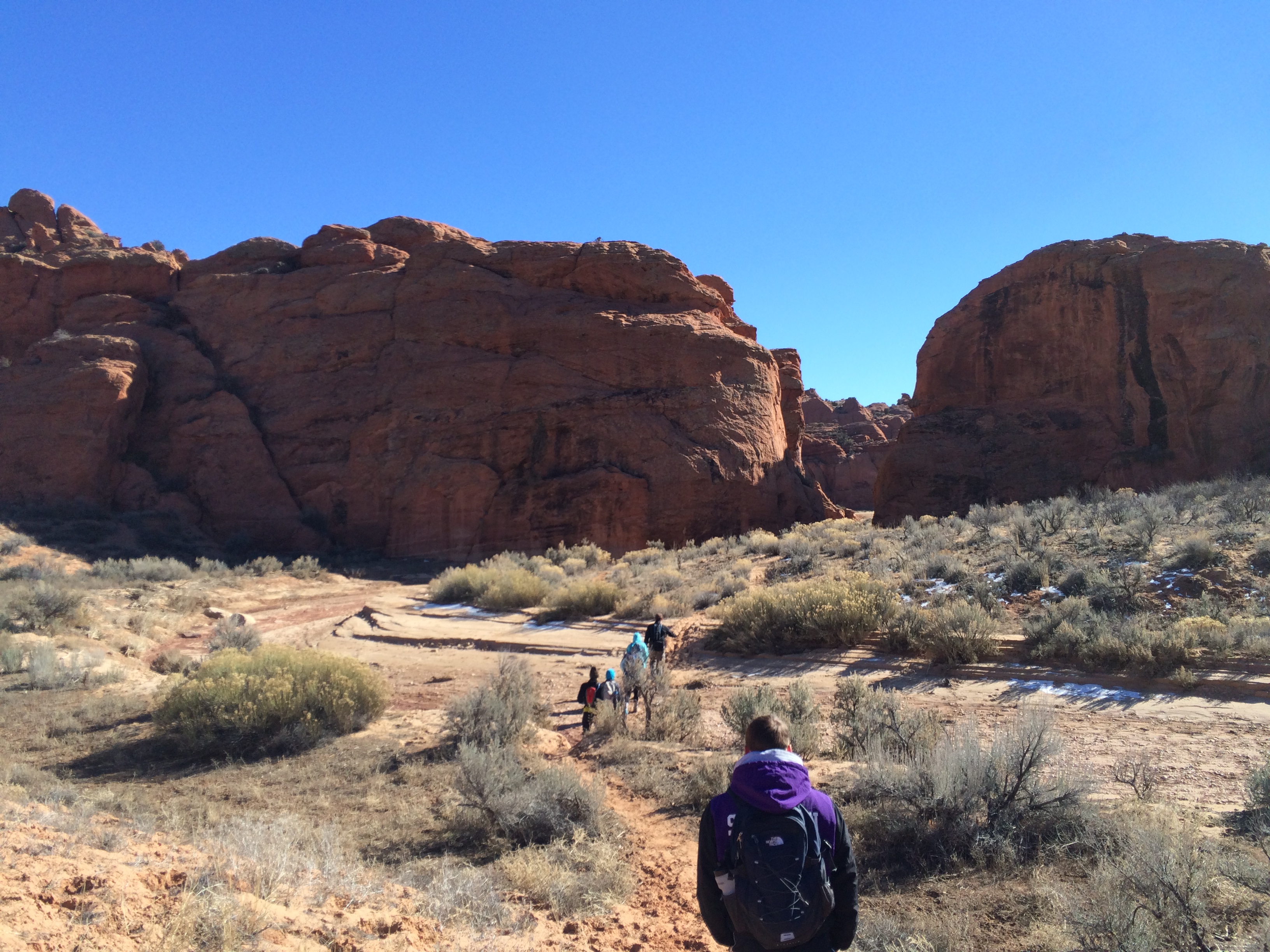 We soon arrived at the slot canyons, and even though we had been a tough crowd in the morning (and because we didn't know what was to come in the afternoon), we forgot how tired we were.
The entire scene seemed otherworldly.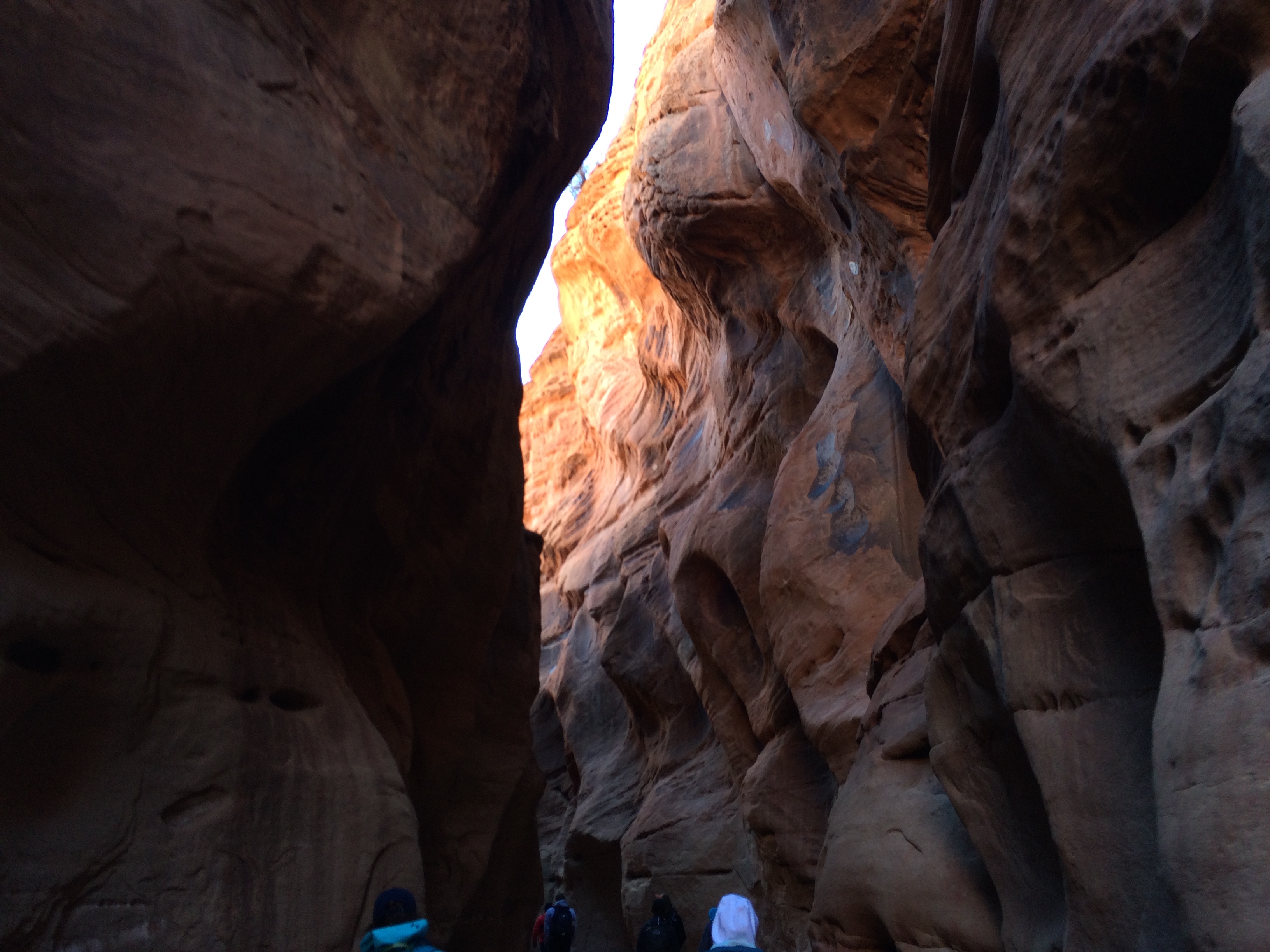 We were fifty feet deep in a crack in the earth that was basically invisible to someone standing at normal ground level. Naturally, we climbed some walls,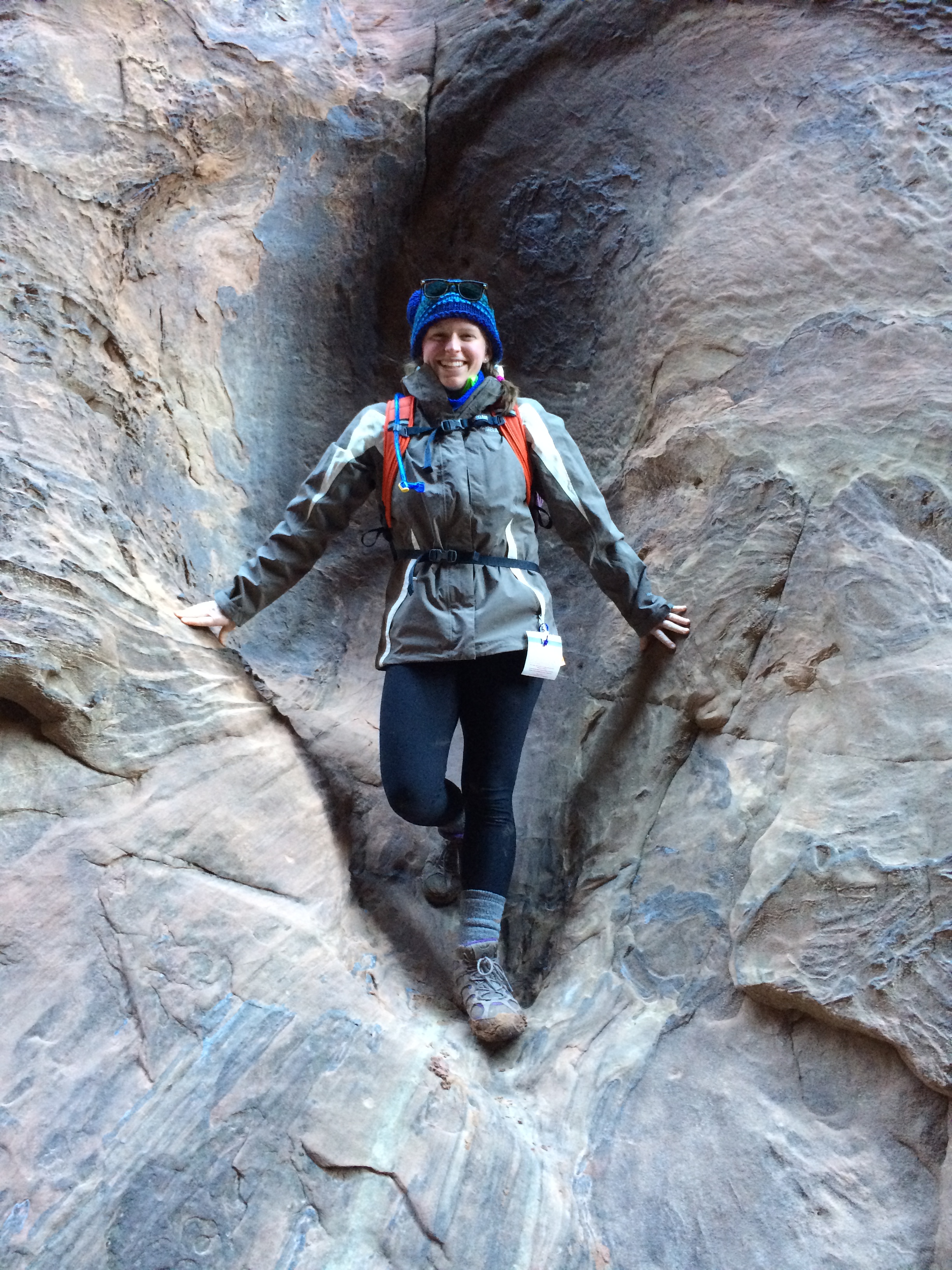 took some pictures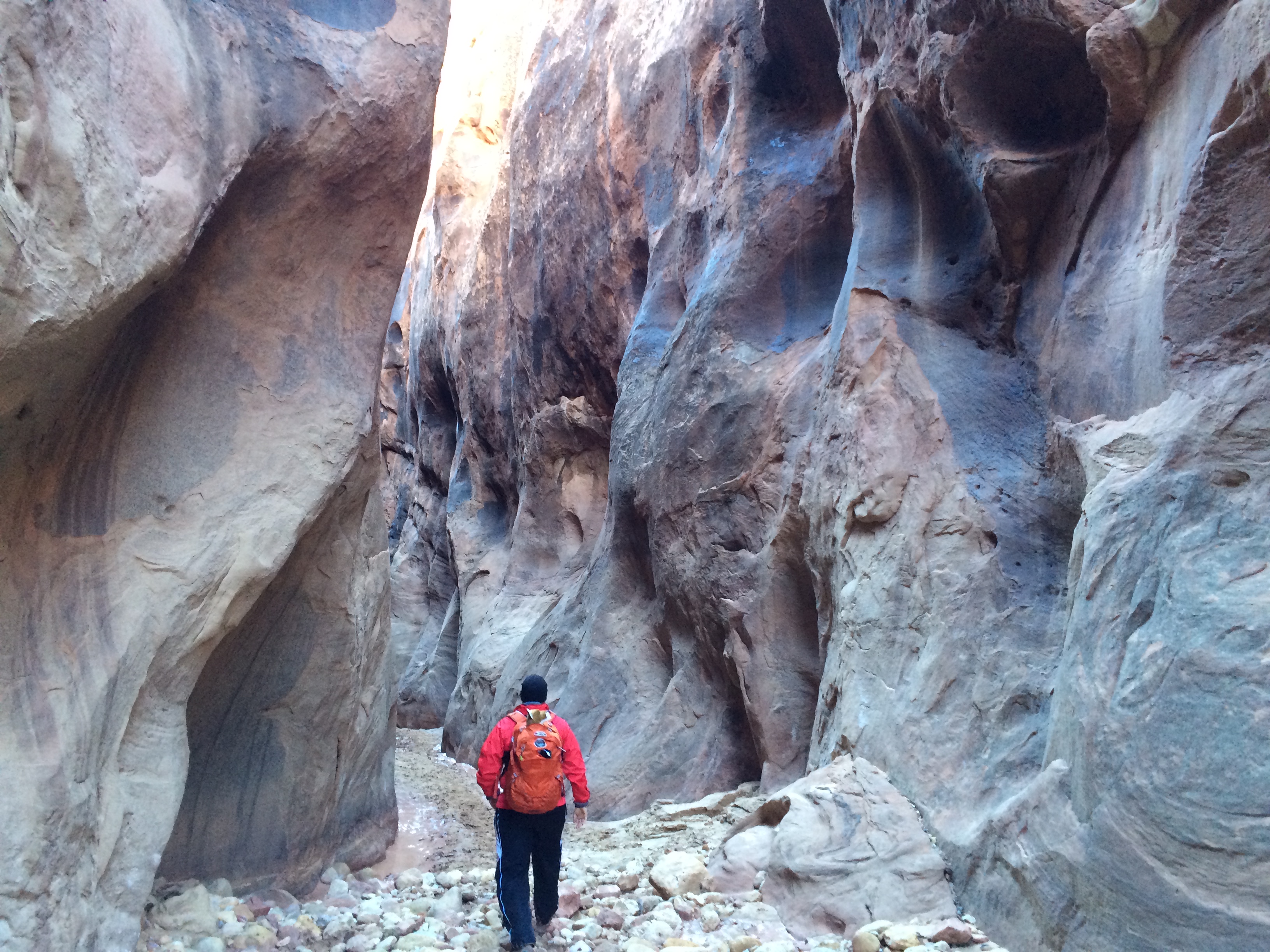 and painted some faces.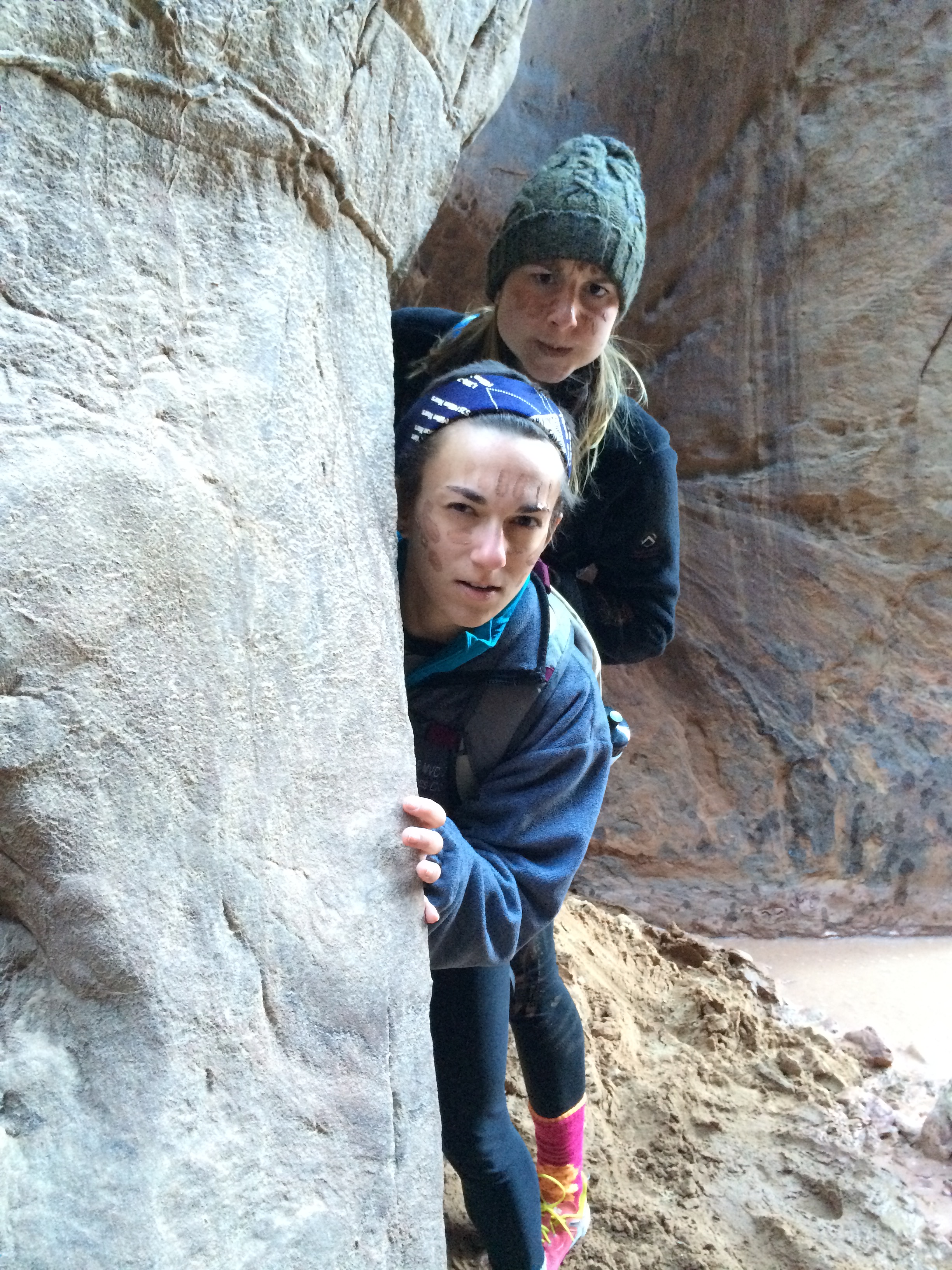 Unfortunately, the excursion through the slot canyons ended far too soon. Our attempts at crossing the small sea proved futile, and we were forced to turn back.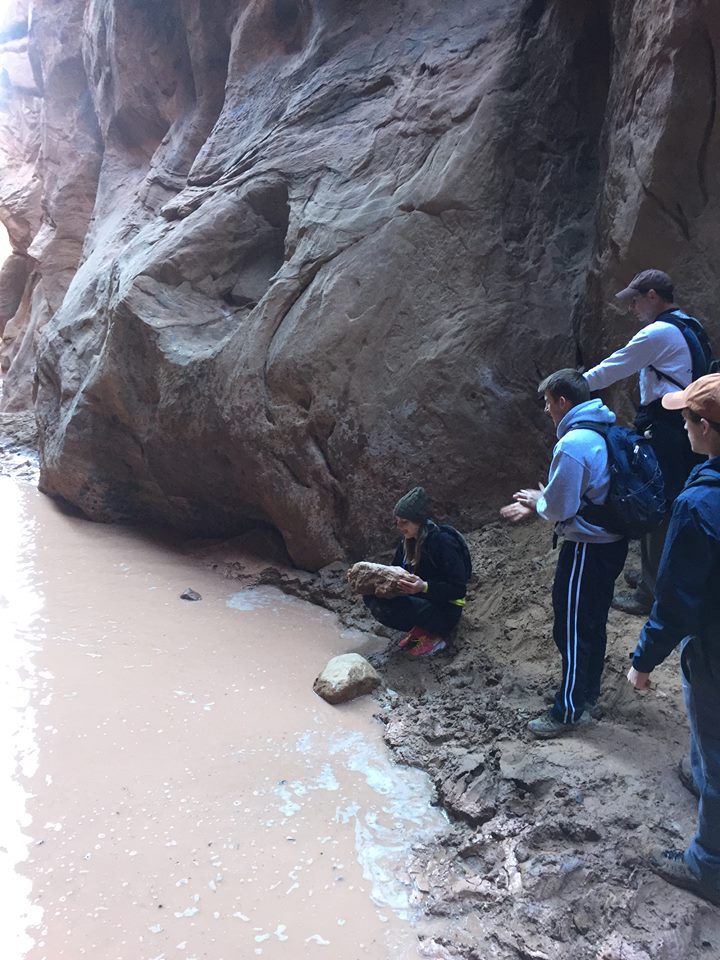 However, to make the return trip more interesting, we decided to take a different route to the van.
*         *           *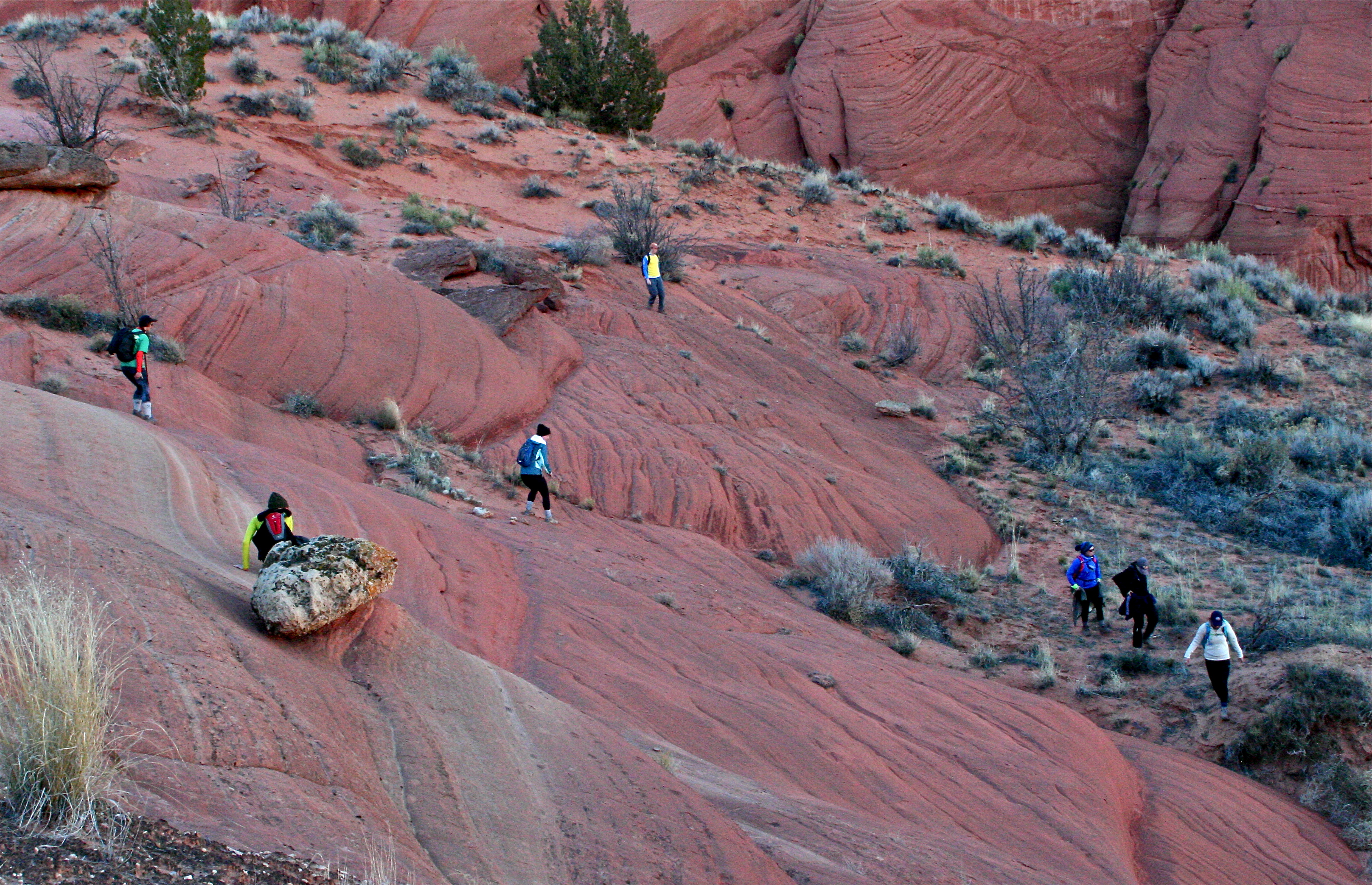 Two hours later, clapping, whistles, and yelling filled the air as the sun began to set. Tara led the noise-making in hopes of deterring any potential predators. Everyone had become a little nervous after we found a pile of bones.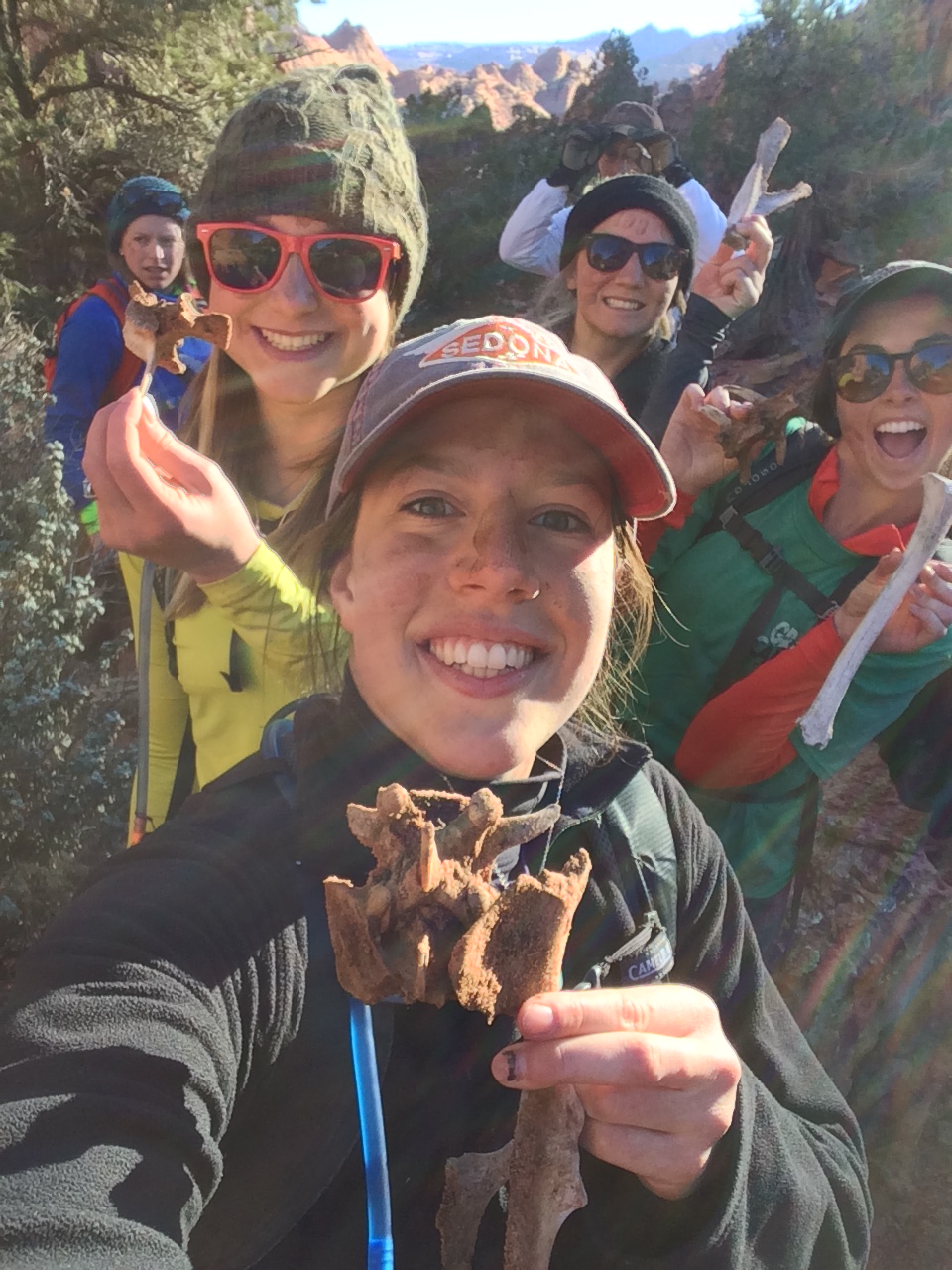 Attempting to shortcut our way back to the van had failed, and we had to retrace our steps through what we feared to be dangerous territory.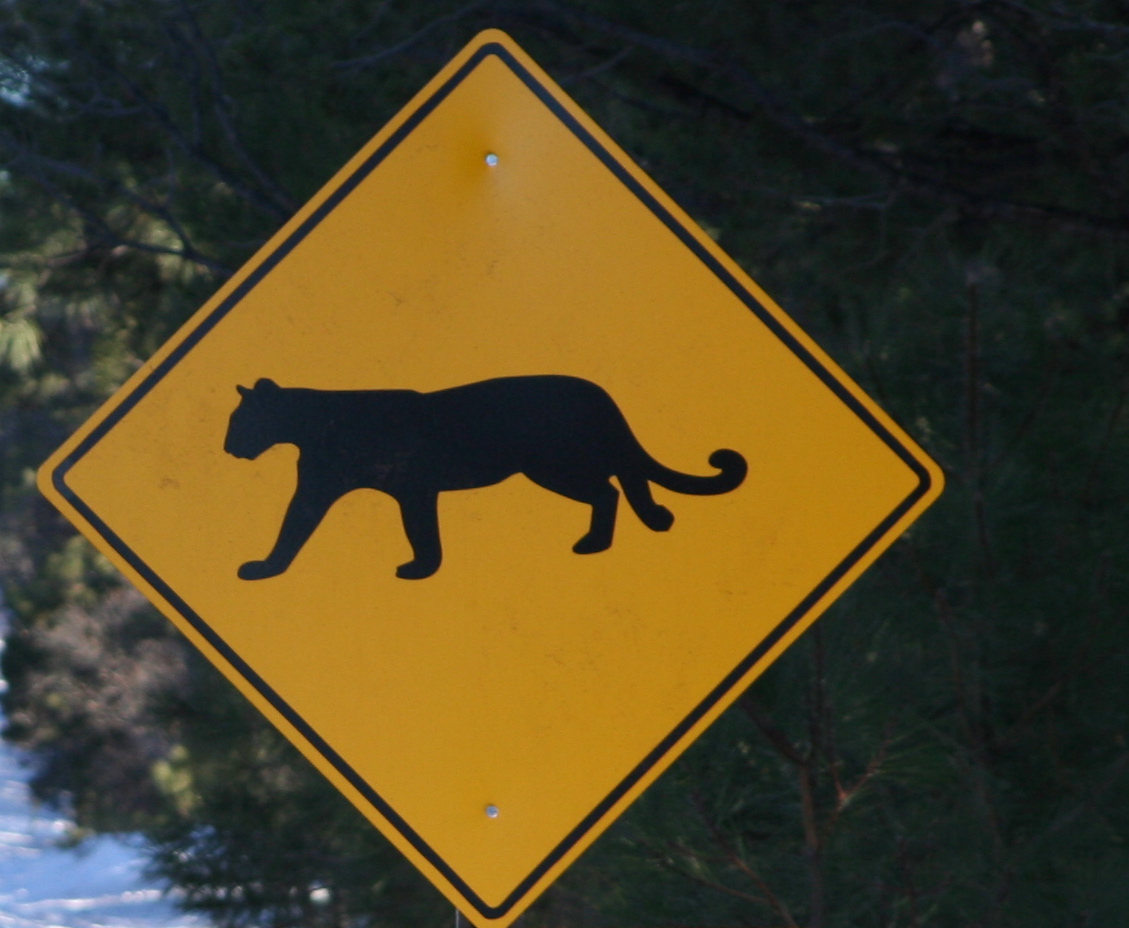 Still, we  had no doubts about our fearless leader's navigational ability, so we confidently followed Dr. Sweeney.
Although we had a couple of tense moments, we arrived at the van safely, without any wild animal attacks or serious injuries, ready for another day on (or preferably off) the trail.
Slot Canyons II: Lower Antelope Canyon
On the way from Page to Flagstaff, we made two stops: The Glen Canyon Dam and Lower Antelope Canyon.
For our first stop, we had a good dam guide, Duane, to give us a good dam tour. Duane had worked as an electrical engineer at the dam for almost forty years. He first took us over the top of the dam and explained the construction process, which was completed in 1963. Over 700 million tons of concrete were required to create the massive dam, which controlled the flow of the Colorado River. He told us that if the dam collapsed, the water pressure would lead to a 100 foot wall of water rushing at 400 miles per hour. The water would reach the Grand Canyon (which is 80 miles away) in fifteen minutes.
Duane then took us to the turbines, which were 512 feet below the top of the dam. He explained that the eight huge turbines provide electricity to a range of over 200 square miles, and Glen Canyon can make electricity cheaper than any other hydroelectric source in the area. Besides giving us quite a bit of interesting information, he told us a few good dam jokes. He even let us take a selfie with him.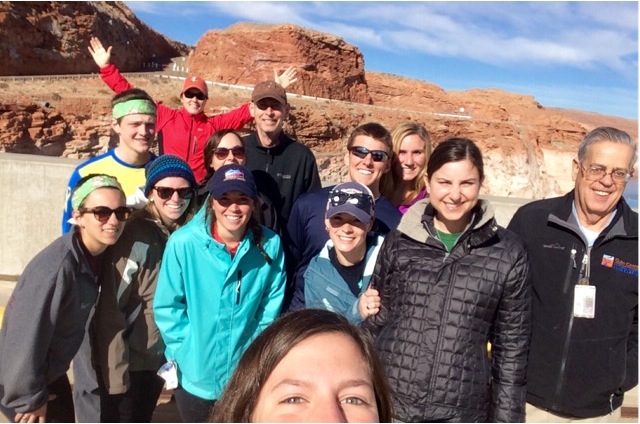 After Glen Canyon, we stopped at the Lower Antelope Canyon. The Navajo tribe owns Lower Antelope Canyon and does not allow tourists to explore it without a native guide. Instead of Dr. Sweeney, Shushi, a young Navajo man, would lead us through the canyon.
From the earth's surface, Antelope Canyon was not very impressive. Standing right next to it, a person might not even notice it existed.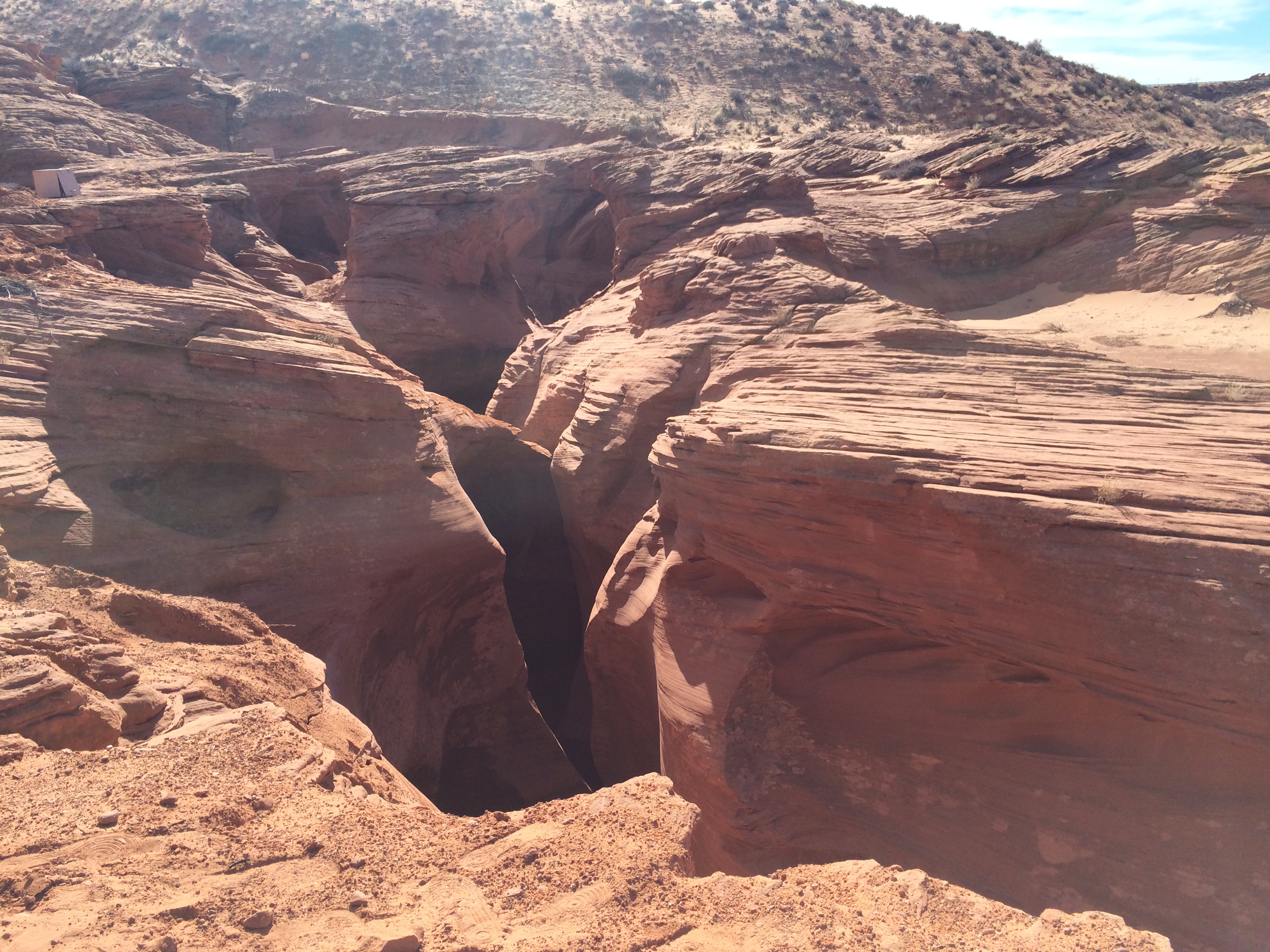 But we could tell it was going to be a special place when Shushi pointed out fossilized dinosaur tracks on a several hundred million year-old rock. We took dozens of pictures before we even made it to the canyon.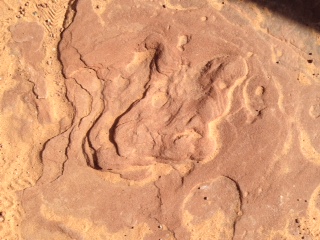 Shushi led us down five flights of metal stairs bolted into the canyon wall. In less than a minute, we were 105 feet below the surface of the Earth.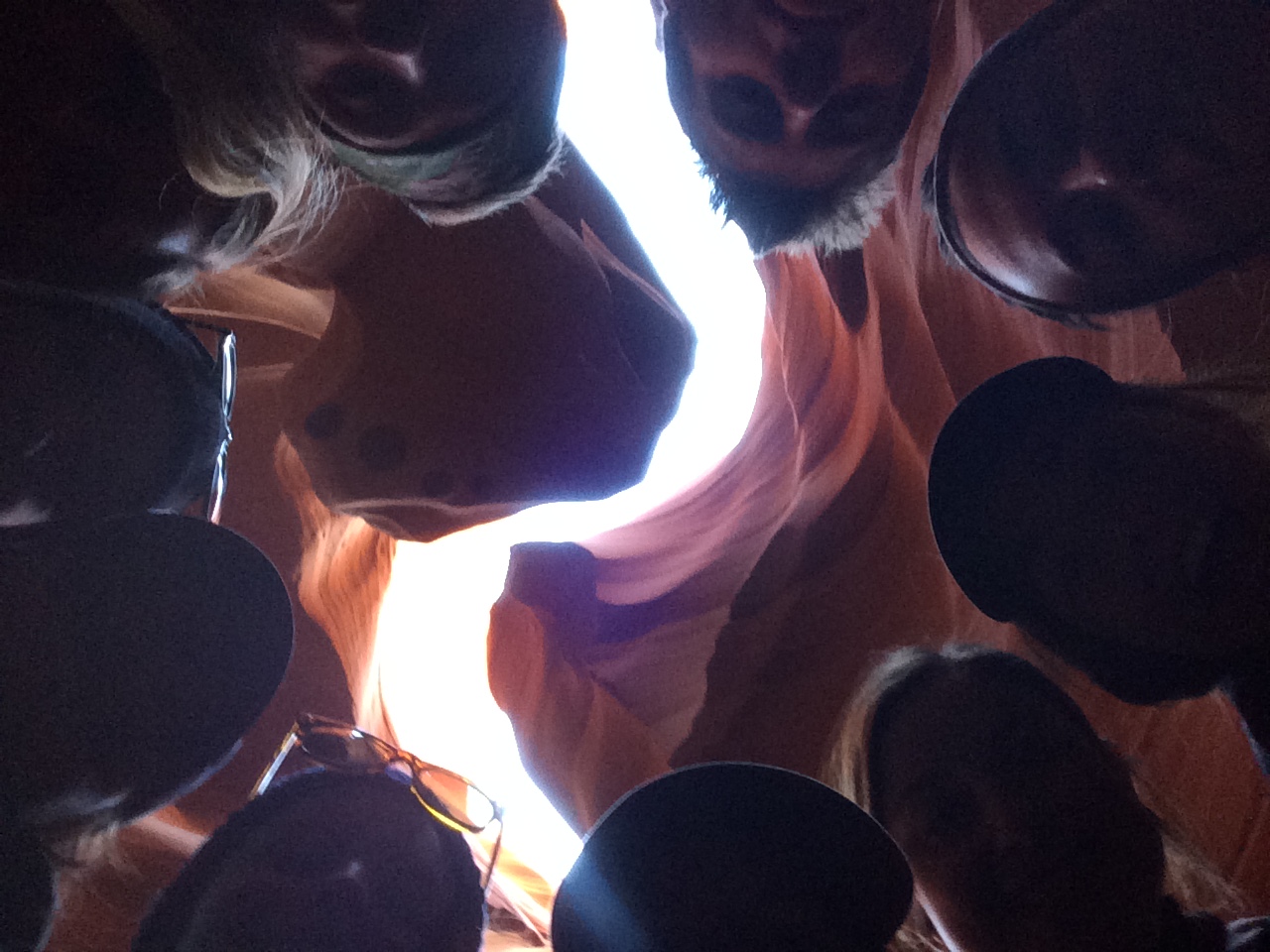 Antelope Canyon was even more incredible than the slot canyons we had seen two days before. Shushi told us the Navajo folklore about the sandstone formations, pointing out the "Lady of the Wind," an eagle, and a Native chief, to name a few.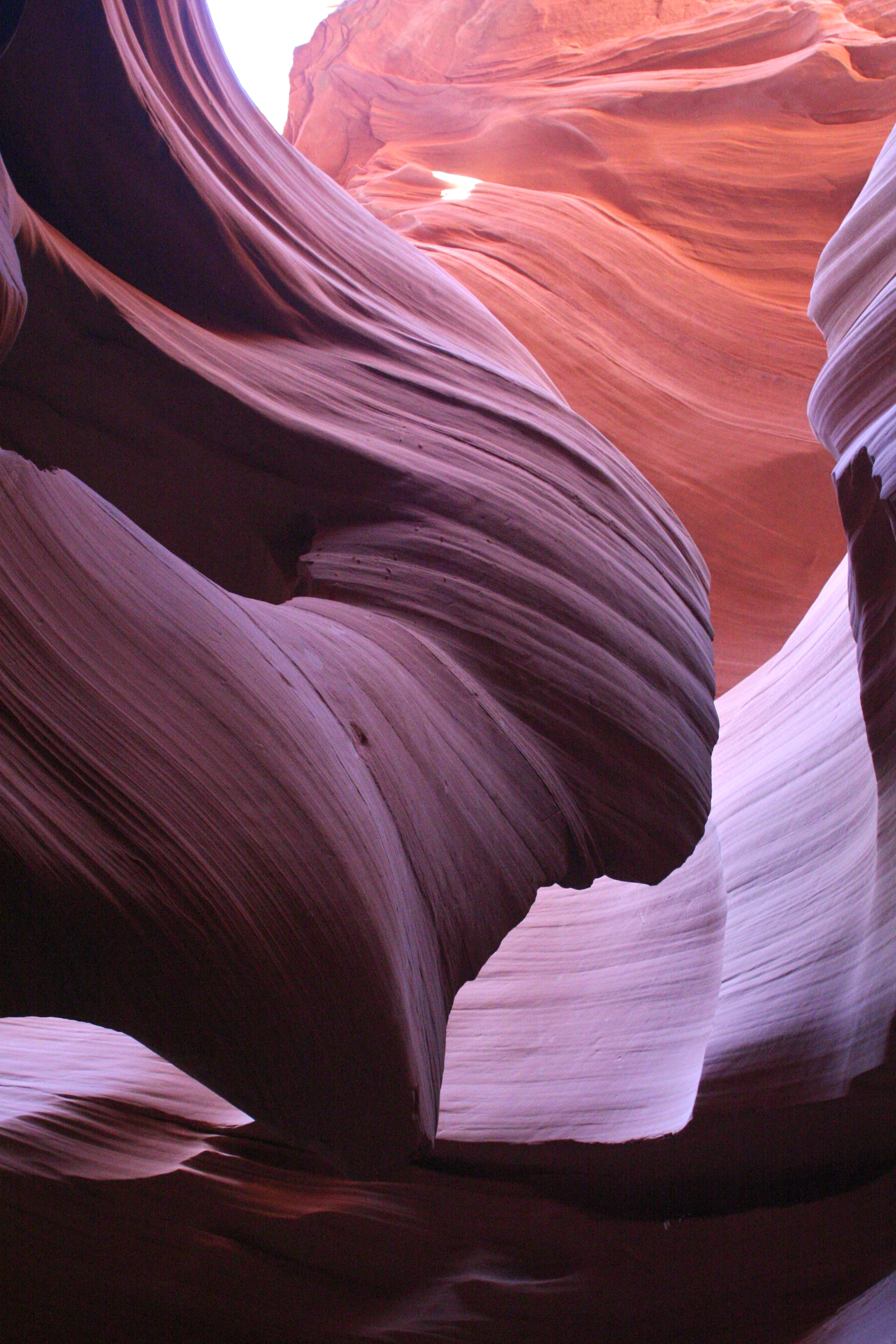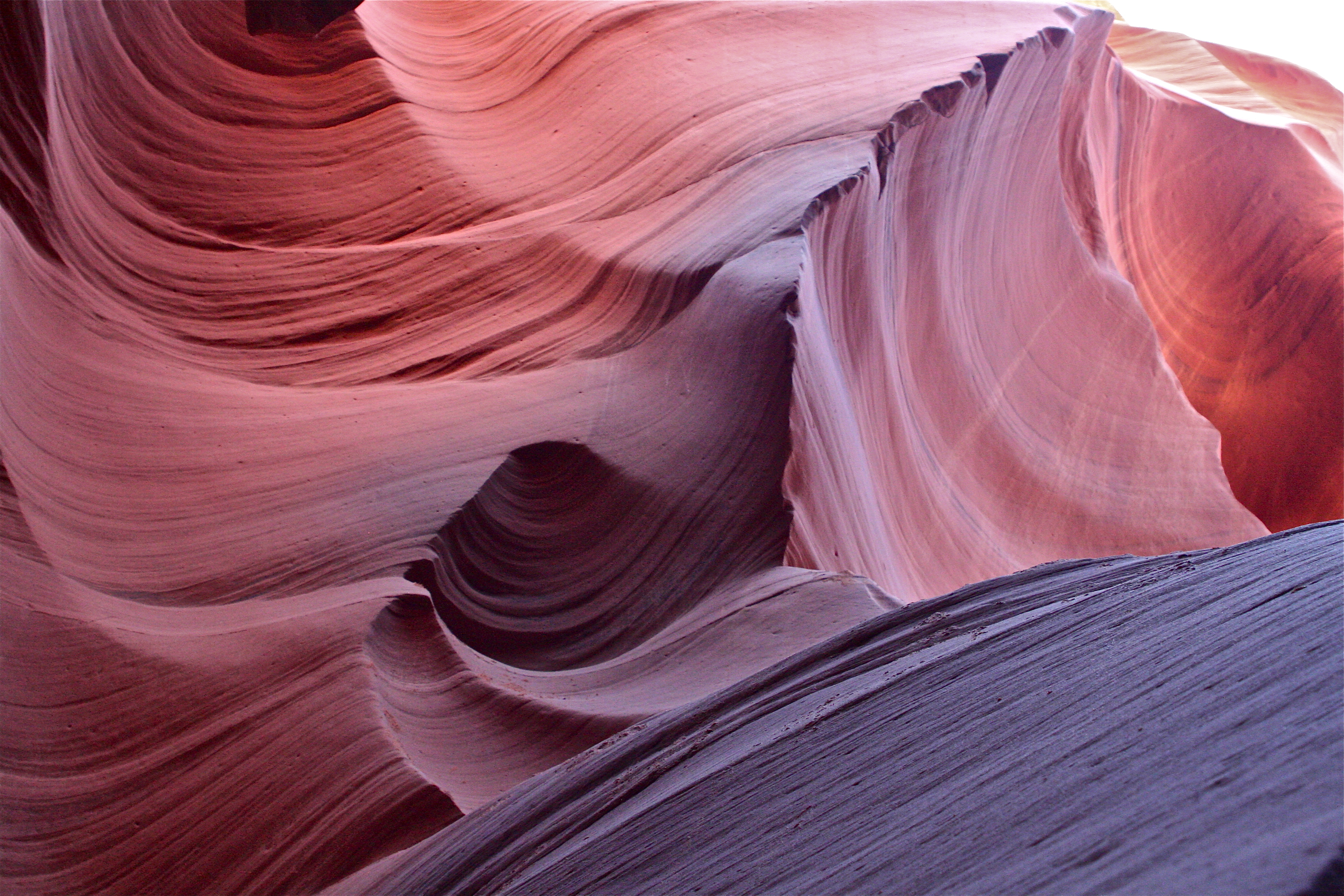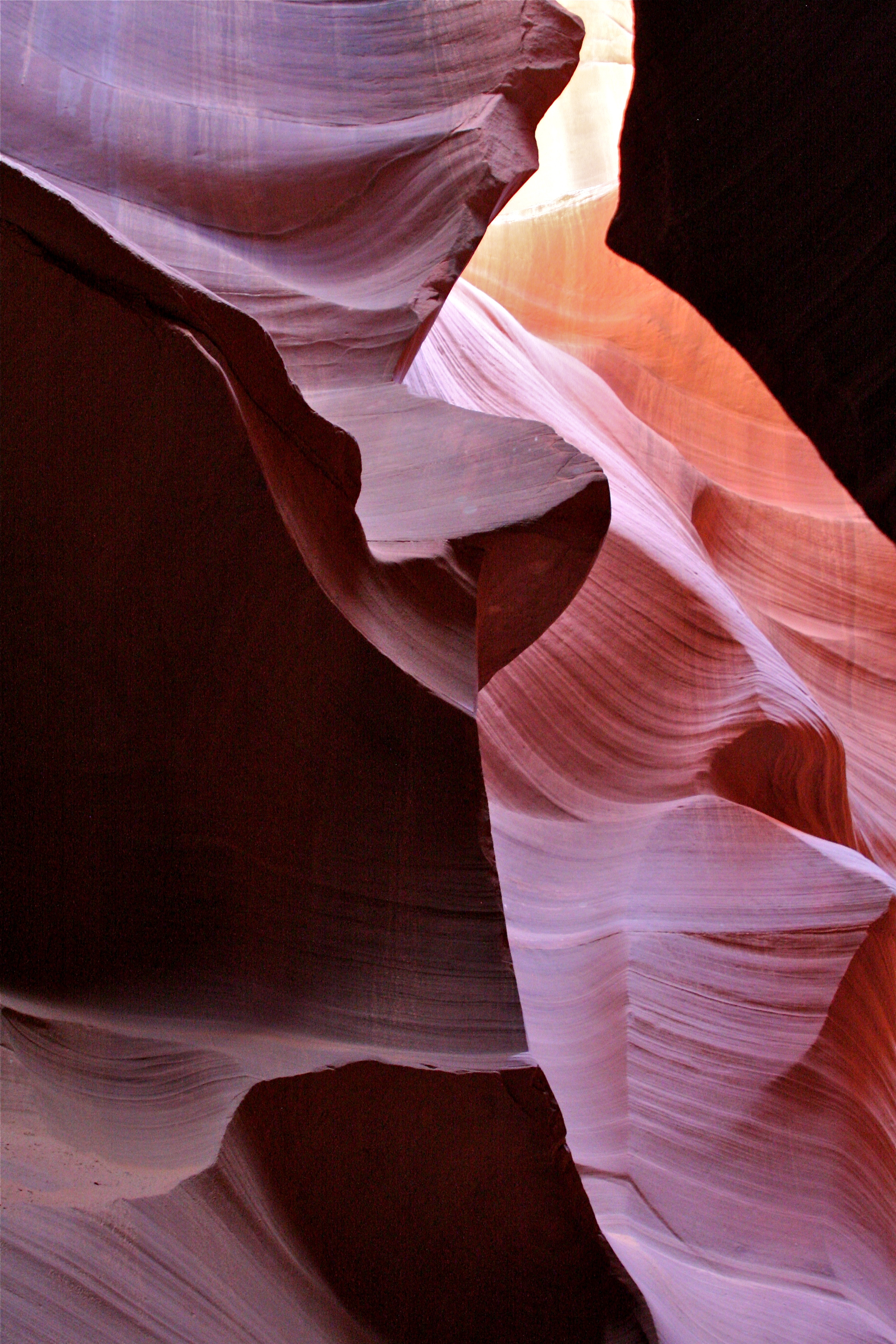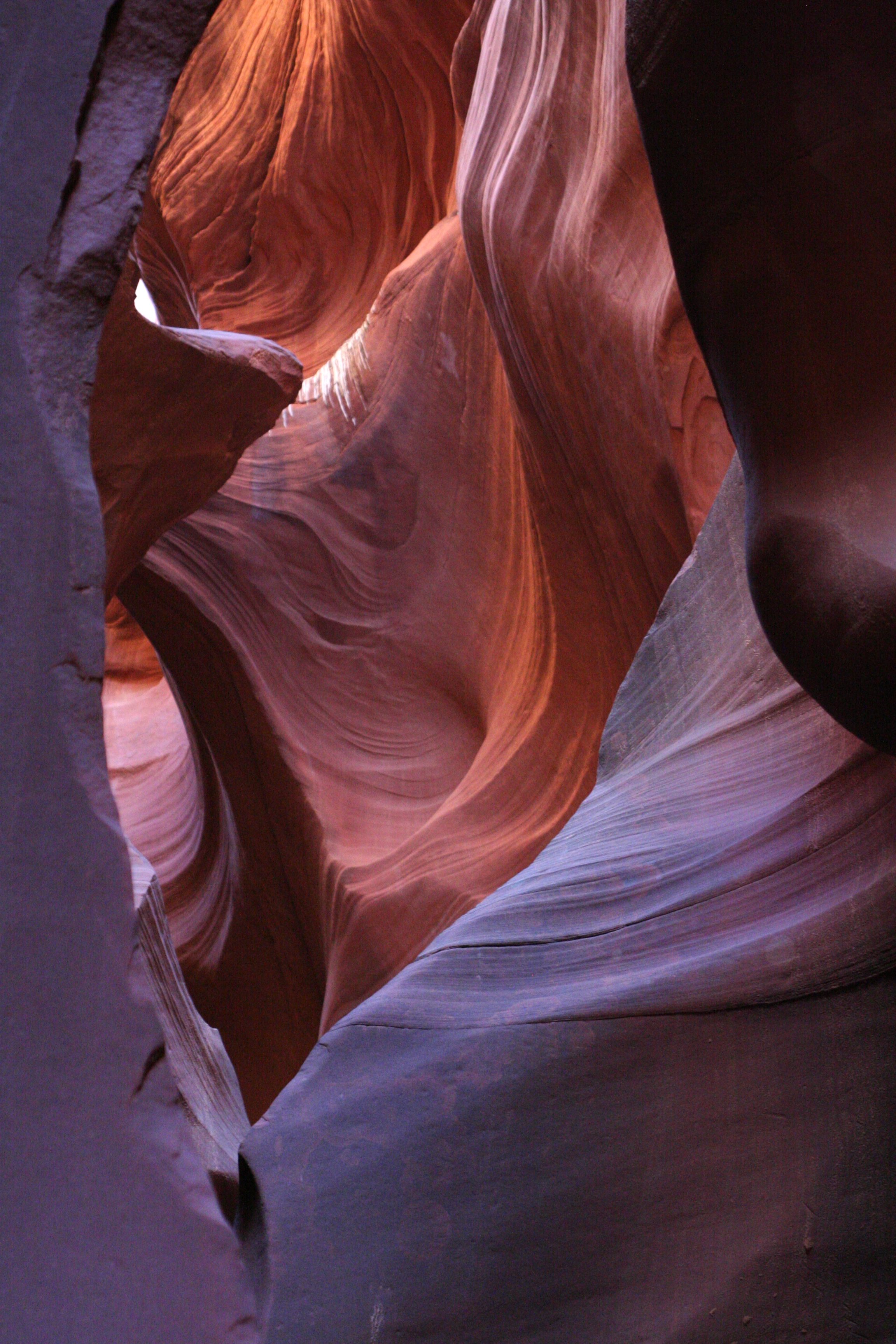 He took some pictures of us in cool places.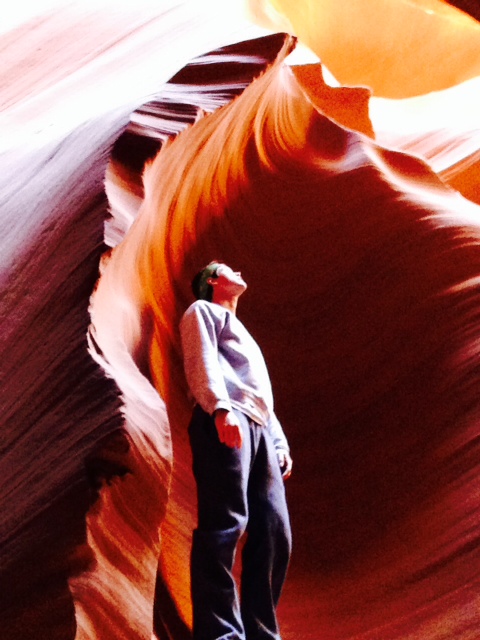 Shushi even played us a song on the Native American flute.
Finally, Shushi described how many of the rock structures in the area had formed. First, he poured water into a small heap of sand to show how sand dunes became saturated with water and dried in the sun. After his sand pile had dried, he scraped the sand away from the base, showing that wind blew the surrounding sand away from the solid structure. Finally, more wind and water shaped the exposed sandstone into the formations that we see today.
Glen Canyon and Lower Antelope Canyon were truly incredible, especially with Duane and Shushi as our guides. We got to see two marvels, one man-made and the other natural. It really gave us a better appreciation for both the power of nature and the impact that humanity can have upon it.
Norm, for The X-Treme Dream Team