Today was our first full day of Extreme Physiology 2017, so we took the students on a hike at Chiricahua National Monument in Willcox, AZ. Covering 12,025 acres, this monument was established in 1924 so that the 27-million-year old rock pinnacles (called "standing up rocks" by the Chiricahua Apache in the 1500-1800s) would be protected. The pinnacles were formed when the Turkey Creek volcano had a massive eruption, forming the pinnacles as superheated particles of ash melted and molded together. As time passed, water, wind, and lichen have cracked and smoothed the rock into the picturesque pinnacles we see today.
Chiricahua National Monument is considered a "sky island" because it's rock pinnacles tower over miles of flat and slightly rolling desert and, interestingly, the animals that inhabit this mountainous area cannot tolerate the heat of the desert that surrounds it, so they are confined to the higher, cooler pinnacles which collectively compose an "island" in the middle of a sea of desert sand, cacti, and mesquite trees.
From the Visitor Center, we were able to access the trailhead and begin our trek on the Lower Rhyolite Canyon trail (the term rhyolite refers to gray rock made from superheated volcanic ash particulates melting together) sporting several layers of clothing to keep us warm in the chilly air, and carrying plenty of food and water in our backpacks.
The trail passed by a creek bed, where we could see lingering damage from the 2011 fire that tore through the region. Many tree trunks were still covered in soot.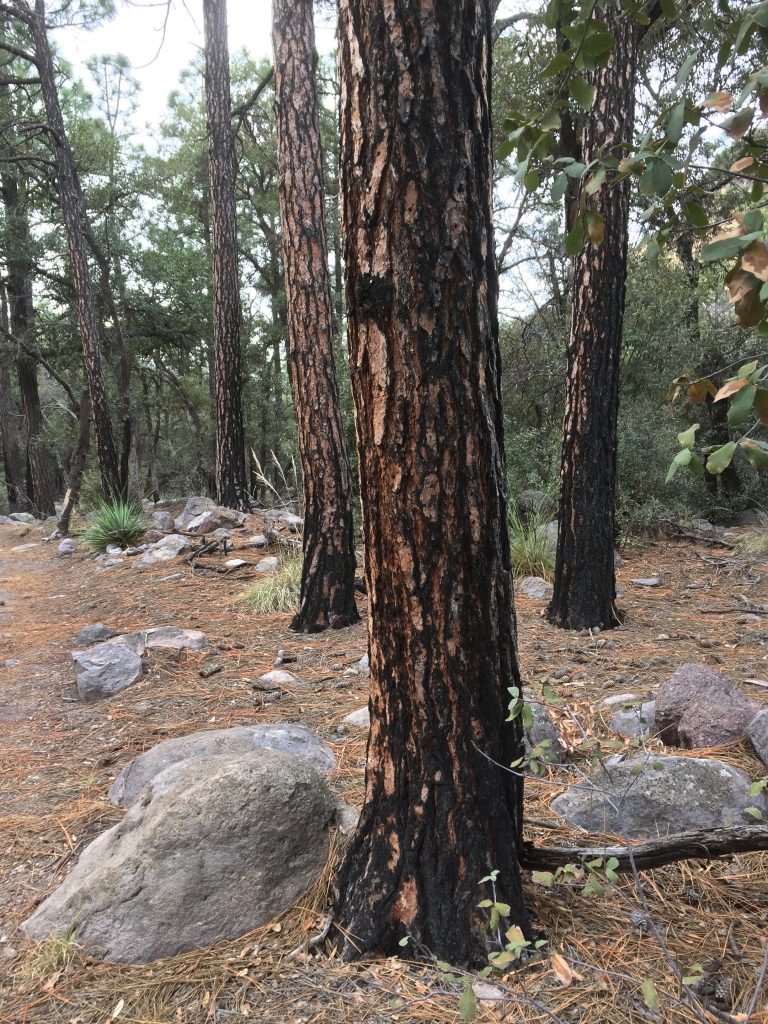 The trail quickly turned more challenging as we started to ascend. As we trudged up an incline littered with large rocks to step up and over, several of us had worked up a sweat and needed to pause briefly to take our jackets off. A little later we encountered a few switchbacks, and stopped to take our first group photo at one of them.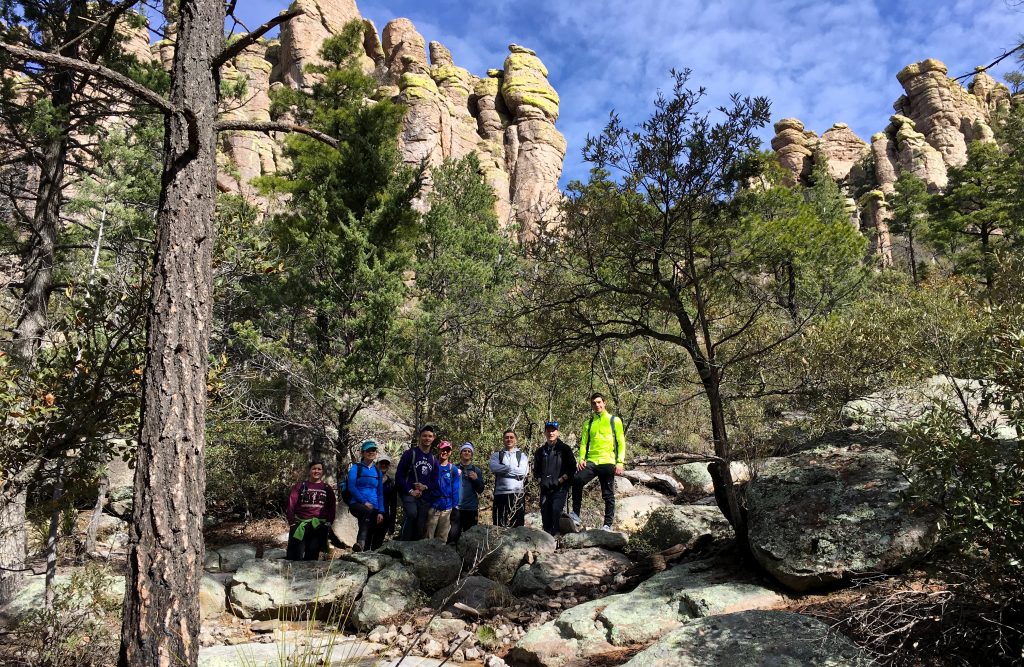 Continuing on, we passed yucca and prickly pear cacti and stole glances of giant rock pinnacles as we navigated over patches of ice, finally reaching the Sarah Deming trail. This trail gains 880 feet over about 1.5 miles, so we mostly focused on breathing as we gained altitude. We came to an open area where another group was having a snack, so we also took a little break here to chat with them, enjoy the views, and climb on some of the rocks.
We said our good byes then huffed and puffed our way to the junction of the Heart of Rocks loop and Balancing Rock trails as we continued to ooooh and ahhhh at the beautiful rock formations.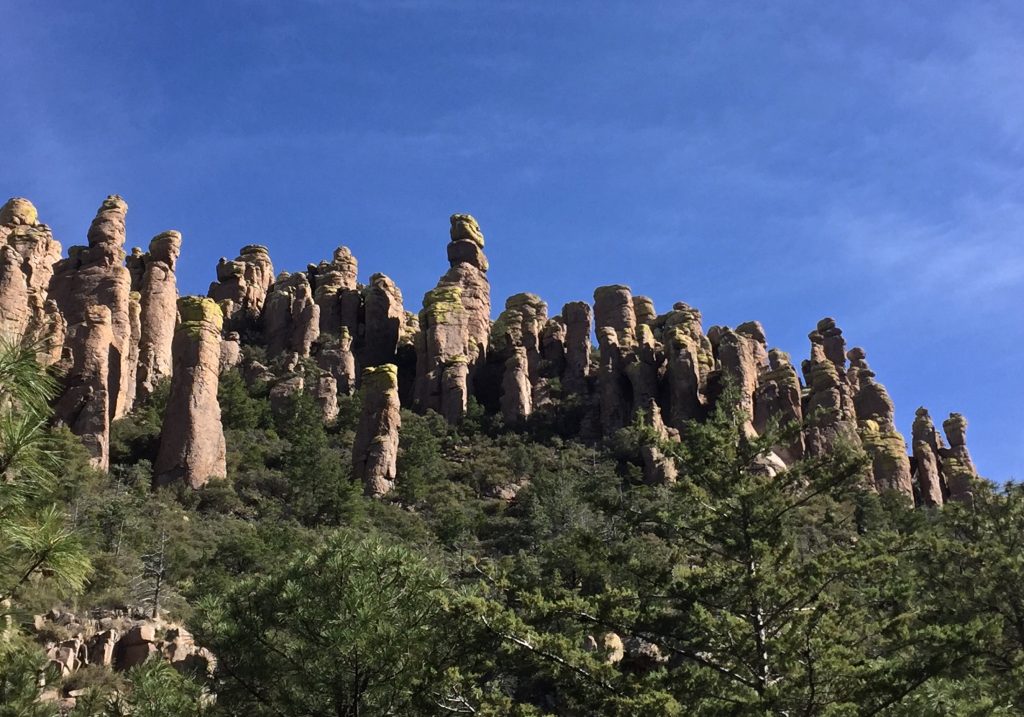 We traveled along part of the Balancing Rock trail to get a nice, close look at it and then we returned to the Heart of Rocks loop.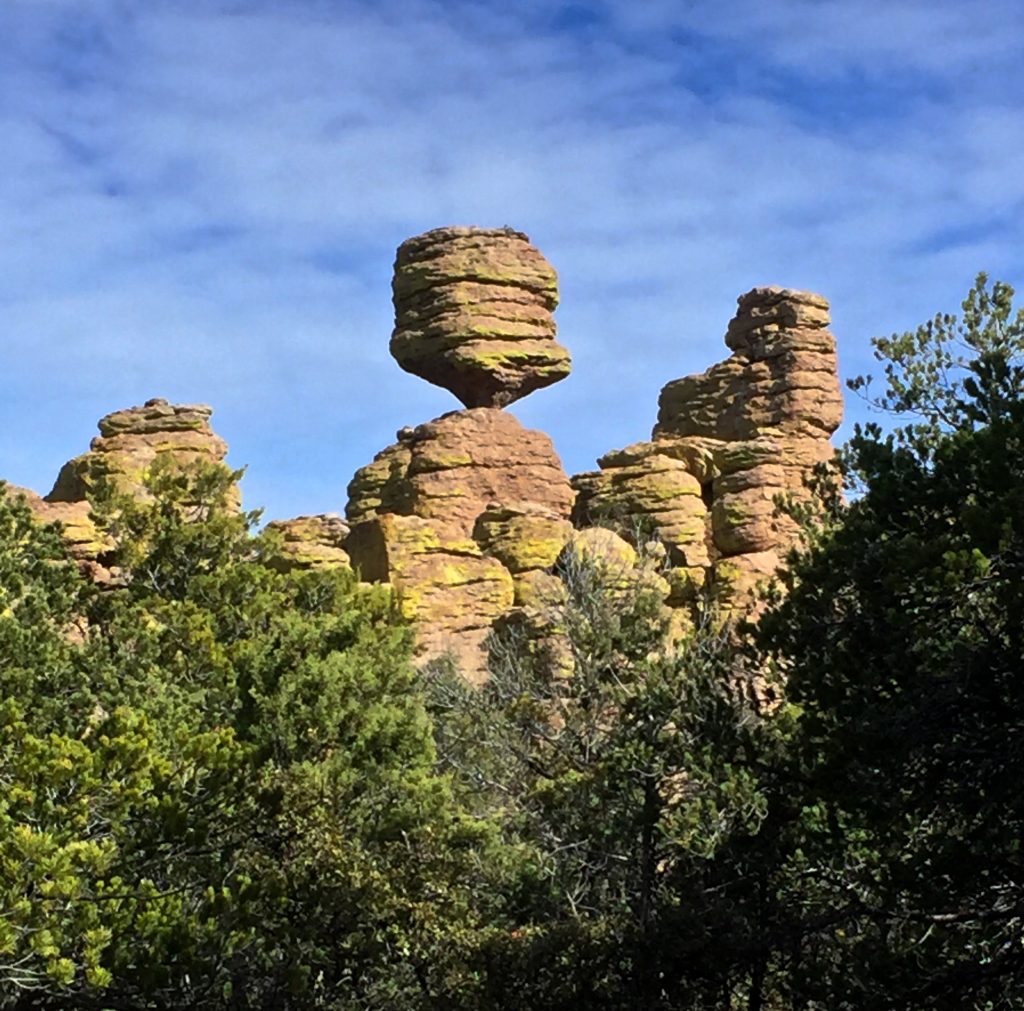 This loop took us past a variety of interesting rock formations and yielded breathtaking panoramic views of distant mountains. Near "Thor's hammer" we had lunch, basked in the warm sun, and took another group shot.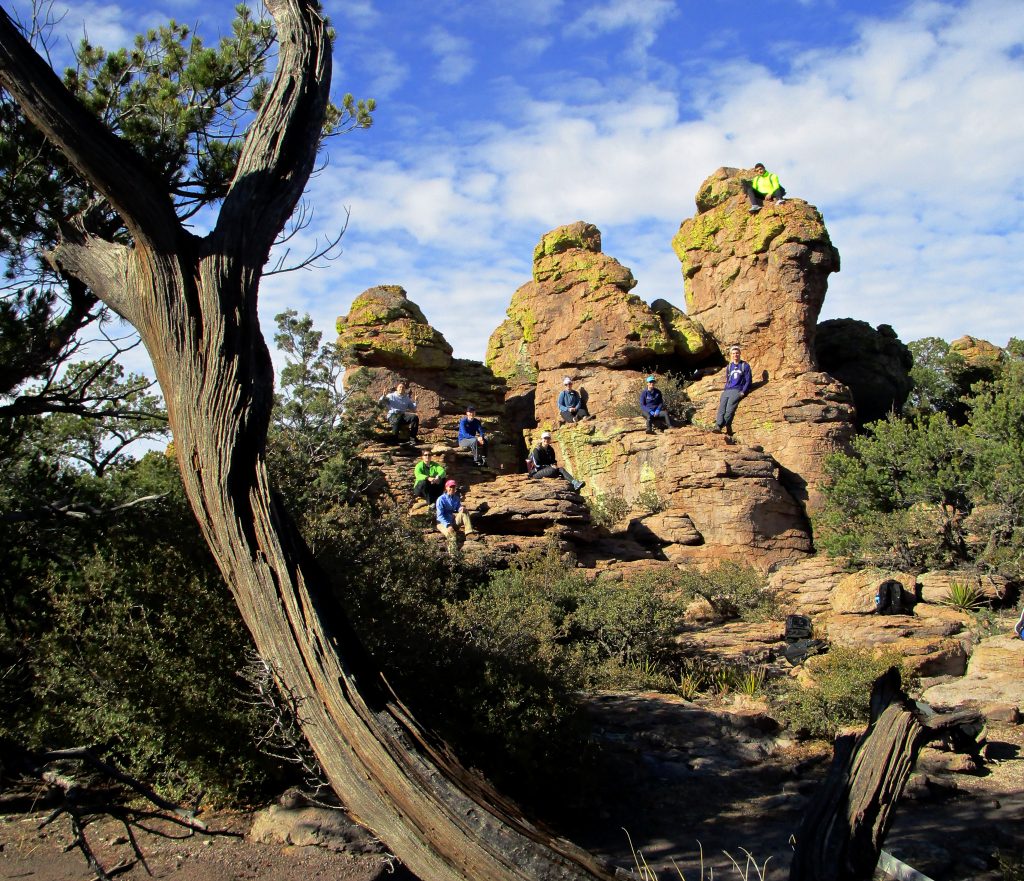 After completing the loop, we headed back down the Sarah Deming and Lower Rhyolite Canyon trails at a blistering pace, as every step brought us closer to a delicious chili and cornbread dinner.
-Tara