The longer I work through my internship the more I have come to realize how much I have learned in just two months. In the past weeks I have been fortunate enough to accompany my mentor, Attorney Rose Randazzo, to several meetings, depositions, and site visits. These are the times when one meets interesting people: bank executives, realtors, contractors and engineers, judges and other attorneys, and even regular folks like me. Those encounters and experiences are the most rewarding pieces of my work—I learn best in the field. The simple facts that I did not know how to write a memo before June, or how I learned what happens at a deposition, are proof enough of the value of this internship.
However, with the benefits of working come challenges. The most frustrating part of my work so far has been experiencing the volatility of commercial development. I shadowed Attorney Randazzo through a real estate project from its incorporation to negotiation of purchase, development, and lease with a tenant. After a month of legal work on the project (and becoming rather attached to it) it completely fell through. I cannot express the disappointment I felt when I returned from lunch one day only to discover the project had been terminated. But we persevered and are moving in better directions with new ideas—as seen below. We're currently working to donate some land to LHVA to give back to the community. I have been fortunate enough to follow the process.
The most valuable lesson I have learned from this came from Attorney Randazzo herself. She told me that, for every ten failed projects, only one usually passes through to finality. It is the nature of the business. But we must continue, going forward and learning from our failures and pushing to do better on the next attempt. But that lesson transcends work—it carries into life.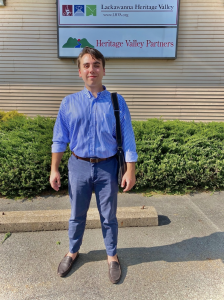 Sam Marranca '22
History