Thus far at my internship with the Reading Royals, I've been able to learn a lot about myself. Seeing myself grow as a person and seeing my sales and communications skills improve every single day has been the most rewarding part of my internship to this point. Early in the summer, I, along with all the other interns, doubted ourselves when it came time to make our first sales calls. For the first week or two of making calls, I found myself getting nervous before and during each call. I wasn't fully confident in my abilities just yet.
After a few weeks passed, I found myself getting more and more comfortable being able to communicate my sales pitch. Additionally, I began diving further into conversations and being able to learn more about the person I was speaking with and the business they work for. Soon it became second nature and I found it exciting when I was able to get deep into conversations and create a bond with the person I was speaking with. I made 2 sales within the last month here with the Royals and I owe it all to my dedication and desire to get better. (Attached is a picture of me wearing the "Royals Chain" after making my first sale!). To this day, I am amazed by the progress I have made so far this summer.  I believe without a doubt that has been the most rewarding part about my internship here at the Reading Royals.
The most challenging part of my internship was making the transition from practicing and rehearsing my sales pitch to my supervisor and other interns, to actually getting on the phone and talking to a complete stranger, trying to get them to buy Royals tickets. When we were practicing together early on in the summer, we stuck to a script, asking question after question trying to further understand what kind of tickets would work best for the business. This helped me memorize what the best questions to ask were, but it didn't give me a great understanding of what making a real call was going to be like.
When it came time to get on the phone and make sales calls, it was completely different. The possibilities are limitless as to what the person you're speaking with on the phone will say or ask. Making this transition from practicing these sales pitches to actually pitching them to potential customers was a very difficult transition. Eventually, I was able to get the hang of what works best for me and was able to have conversations on the phone rather than sounding like a robot asking question after question. Although this was very challenging at first, I was able to improve with every single call I made and am now at a point where I enjoy making these calls. This has been a very rewarding challenge to overcome!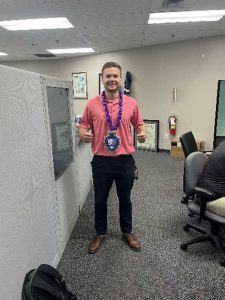 Benjamin Trexler, Business Analytics '25