The class started off the day with lectures by Dr. Sweeney and Professor Fay. Dr. Sweeney's lecture was about oxygen consumption and how oxygen is distributed throughout the body and to muscles during exercise. Professor Fay's lecture was on nutrition and how different nutrients are used by the body, such as proteins, lipids, carbohydrates, and vitamins and minerals.
After the lectures, the class drove to Lackawanna State Park for a hike with Dr. Vince Marshall, a Biology department ecologist. As soon as they got out of the car, it started pouring, so they had to go to Plan B, which was to have the lecture of Lackawanna State Park Environmental Educator Angela Lambert before rather than after the hike.
Angela began her lecture with a video on state parks and followed up with a wealth of information about Pennsylvania's state park system. There are currently 121 state parks covering 300,000 acres with 335 million visitors each year. There is a Get Outdoors PA (GOPA) Program, which was set up to help families get outside and appreciate and respect nature. Almost all aspects of the program are free, and it is led by state park personnel. There also is a rating system for state parks. The PA goal was to have all parks have at least a silver leaf rating, and all of PA's parks do. There is a Leave No Trace program, which teaches people how to take care of parks and leave little impact on the land during recreational activities such as camping.
Angela then talked about how park management offices often manage more than just one park, as is the case for the Lackawanna State Park management office. Angela also passed out maps and showed the class conservancy properties. A conservancy property is owned by a private landowner but the rights have been given to the park to use.
State parks also serve as sites for research, such as on bird migration, and as a habitats for many different species. State parks with bodies of water such as lakes will often have "rain gardens" which capture rain water and essentially filter it through plants to remove chemicals, silt, and other pollutants from the water that then drains into the lake.
After the lecture the rain had finally stopped, and the class drove to the trail and began the hike. While on the hike, Dr. Marshall pointed out one of the many stone walls found in the park's forest lands and explained that the forest had once been a field, and the wall was a property marker. There is no old growth in the forest, with the area having been a farm in the 1800s. Vince also explained that no earthworms are native to the area, as they had all been wiped out by glaciers. All the earthworms in the area now had been relocated from other continents such as Europe.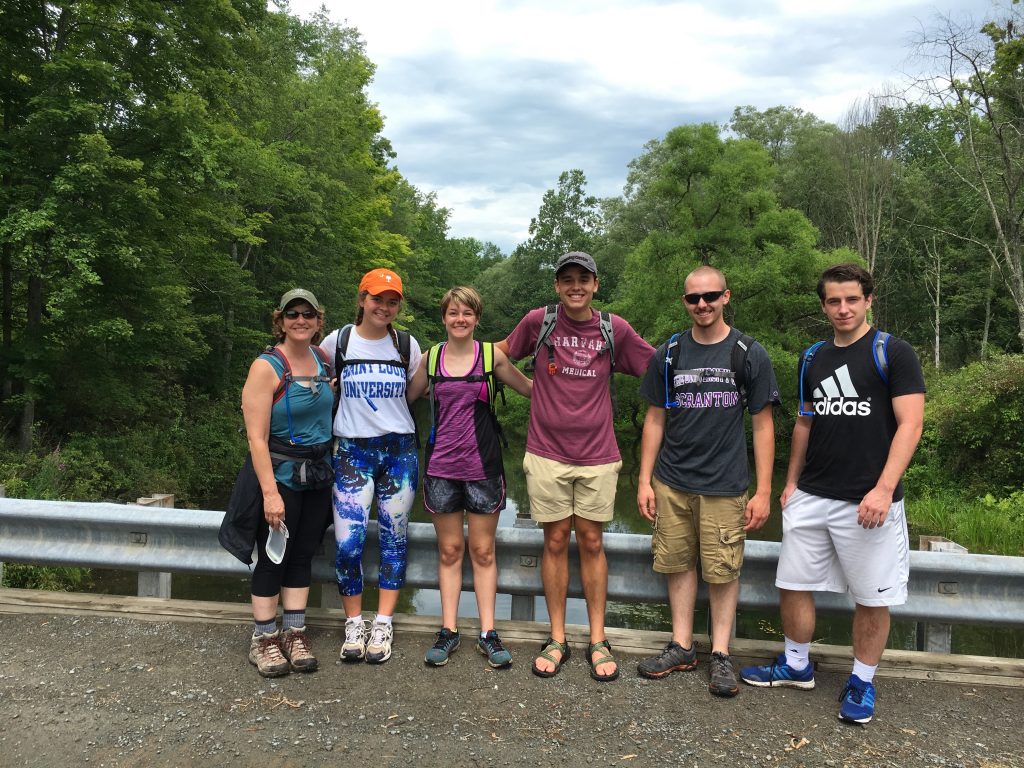 The class stopped for a brief photo op on a bridge before heading back.