This IT Forum introduces you to technologies that are being implemented by various offices or departments on our campus.
December 3 from 9 to 10:30 a.m. in ELH 235
Breakfast is included.
Register: https://forms.office.com/Pages/ResponsePage.aspx?id=msTtqPFBaUyXaKf218O4w9eeFYMqquhGr8RxXbDwAPBUNkI3UEJERzQ5R01GSkpGMzc4MVA4Q1lWNC4u
Guest presenters: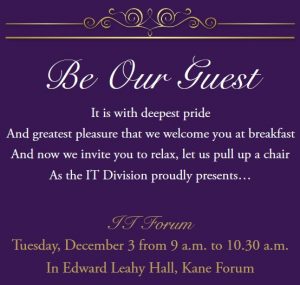 Rebekah Bernard '01, G'18, Information and Technology Specialist for Admissions & Enrollment
Kelly Connor Lewis, '00, G'07, Information Systems Specialist for Admissions & Enrollment
Shannon Murphy Fennie, '99, Assistant Dean of Students
Michael Ritterbeck '09, Director, Center for Student Engagement
Office of Admissions and Center for Student Engagement
Presentation: New Student Orientation with Slate
Kelly and Rebekah collaborated with Shannon and the Center for Student Engagement to create the Orientation registration and communication process in Technolutions Slate, the Admissions CRM. This streamlined the process for students registering, improved visibility of the process for Orientation staff and improved personalized communication for students and their guests regarding the events.
Jason Graham, Ph.D., Associate Professor in Mathematics
Presentation: Bringing Cloud to the Classroom with AWS Educate
Bio:Dr. Graham works, generally, in the field of applied mathematics, and more specifically, in mathematical biology. Most of his research revolves around developing mathematical models of biological phenomena of interest in current biomedical research. He is currently working on mathematical representations of bone remodeling and injury response in articular cartilage.
Glenn Brannelly '20, Redington Scholar, Computer Science Major
Presentation: Study Room Scheduling with a Raspberry Pi
Bio: Glenn Brannelly, is a Senior (Redington Scholar) Computer Science major from Dublin, Ireland. He is currently the Director of Technology on Student Government, and works in the CTLE as a Techcon. He loves building upon his skill set, engaging in leadership roles on campus while continuing to achieve academically. He also likes listening to music and playing guitar in his free time.
Julie Ferguson, Registrar
Presentation: Enrollment verification with the National Student Clearinghouse & Enhancing the student experience with Banner 9 registration self service.
Bio: Julie Ferguson joined the University in 2016 as Registrar. Prior to her position at Scranton, she served as the director of the Registrar's Office, assistant dean for student affairs and director of clinical electives over the course of 15 years at Rutgers University – Rutgers New Jersey Medical School.
For questions, please email julie.brackeva-phillips@scranton.edu.
IT Town Hall
This event facilitates conversations about technologies on our campus. We invite you to come with your ideas and questions. Light refreshments and desserts will be served.
Save the date: Tuesday, February 11, 2020 at 11:30 a.m.