Two Step Login
The Two Step Login process uses two forms of authentication to verify your identity, which is essential to strengthen our information security efforts.
Staff started enrolling in Two Step through Duo on August 13. After September 17, all staff will be required to complete the Two Step Login to access University systems.
Faculty and students will start enrolling in September. More information to come.
We welcome the opportunity to answer questions or help you enroll your account on Wednesday, September 12 from 11 a.m. to 12 p.m. in ELH 235 (The Kane Forum). Register to let us know you plan on attending.
---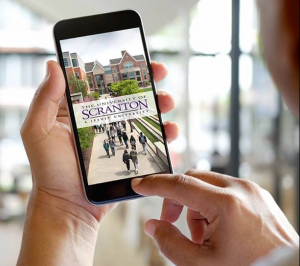 New Scranton Mobile App
Thanks to the Scranton app, you can keep in touch with The University of Scranton wherever you go. You can check out news and events to find out what's happening, keep tabs on sports news and scores, and check your course schedule and grades.
The latest version includes new features such as dining menus, laundry view, rec facilities hours, and more!
Available on the Apple App Store and Android App on Google Play.
---
Royal IT Support
Royal IT Support successfully launched in July. All inquiries, requests and issues relating to campus technologies are being managed through this new system.