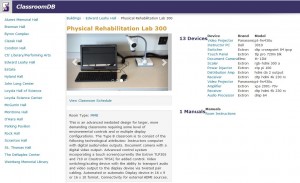 Peruse the online classroom database to find the smart room you need for your next lecture or meeting. The database search reveals specific room equipment as well as room availability, and provides supporting materials and guides for specific technologies.
Standard equipment includes a computer, projector, screen, document camera, speakers and a control system. In some locations additional equipment is also available including a Smart board or Smart podium, microphones and, LCD or LED panels.
The database is continuously updated as technologies are upgraded and installed. Visit https://webnet.scranton.edu/classroomdb/ to find the smart classroom that will enhance your next lecture. This database is only accessible using an on-campus computer.
Recent Upgrades
The Estate: all spaces received a comprehensive upgrade, which included new display technology, a new user interface for
the touch panels and tetherless projection capabilities.
Nurse anesthesia: three operating and observation rooms were created on the first floor of McGurrin Hall. The rooms provide the ability for lecture capture in a practical OR setting. There is also a debriefing room, allowing the students and faculty review the recordings when they are complete.
Other upgraded rooms include Hyland 305, O'Hara 406 & 627, Loyola Science Center 591 and the Chapman Retreat Center meeting room.
New Technologies
Apple TV has been deployed in Brennan 203 and 509, McDade 222 and Loyola Science Center 333.  If you would like to learn more or request training, contact the Technology Support Center.