Congratulations to Glen Pace, Field Services Technician for being a Sursum Corda (Lift Up Your Hearts) Awards recipient. This award recognizes members of the University who have made outstanding contributions to the life and mission of the University.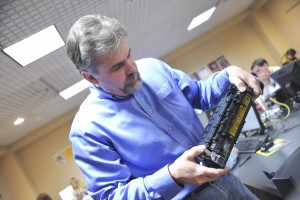 Read the following except from Dr. Don Boomgaarden's speech from the Spring Convocation that took place on February 16, 2016.
Born and raised in Dunmore, Glen is the younger of two sons. During his youth, Glen's parents, Ruth and the late Carmen Pace, owned a neighborhood market, Dick Pace's Market. Although his immediate family was small, Glen felt part of a larger family through the neighbors that his father's market served.
Upon graduating from Dunmore High School, Glen considered two career paths: the military or college. Johnson College's acceptance came in the mail first and so began his long career with electronics/computers. In 1988, Glen accepted the position at the University thinking he would stay about five years – just long enough to get some experience.  Well, five years has turned into 28 and he's happily still counting!  In Glen's role, he has the opportunity to work side by side with different members of our campus community including fellow staff, faculty and administrators, providing the best service and solution to get them back working again. Glen has been a mentor to new personnel in his department which helped them become successful as field service technicians. Glen is motivated, courteous, dependable and kind to everyone he meets: he can come to us on our worst day and make our lives easier, leaving us with a smile.
Glen served two terms as Senator for the Staff Senate. He has served on the Staff Senate Development Committee, various committees within the Information Technology division, the Jesuit Center work/life retreat and volunteers his time to provide computer technical assistance for local police departments. He helped to coordinate a donation of technology from the University to a Women's Shelter in Dunmore. Outside of the University, Glen and his wife rescue stray cats for their local shelter, capturing strays from their community to be spayed or neutered by Eastern Pennsylvania Animal Alliance. Glen spends time visiting with his mother who, due to Alzheimer's, currently resides in a nursing home. More than anything in life, Glen knows that helping others, doing what you enjoy and meeting others where they need you is the foundation of happiness.
It is with great honor that I congratulate and present to Glen the Sursum Corda Award.