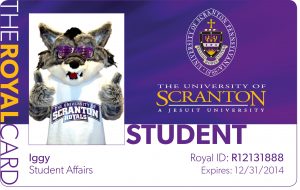 Near Field Communication (NFC) has been a growing technology in the field of campus card technology for almost a decade, allowing more convenience with higher security. NFC cards use contactless technology that allows the cardholder to "tap" their card on a reader, rather than swipe their card, which we have become accustomed. Additionally, the card is more secure than the traditional magnetic stripe using higher standards of data encryption.
For the last five years, the Division of Information Technology has been upgrading our Royal Card technology throughout campus to support NFC technology. We now have NFC technology on 84 door readers, 5 copier readers in the Library, 17 laundry readers in the residence halls, and NFC readers in each of the Fitness and Recreation Centers.
With the increased ability to utilize the NFC technology across campus, we have begun issuing new Royal Cards with the NFC technology this year, starting with the incoming Freshmen class. We will continue to retain the magnetic stripe on our Royal Cards while we continue to support readers on campus that are not yet NFC capable.
Over the next few years, we will continue to upgrade our campus hardware. This year we will be adding NFC technology to 23 more doors and to 6 point of sale devices in the DeNaples Center. By 2020, we will have NFC on all Royal Card devices on campus, which includes over 250 doors readers, 45 laundry readers, and 25 point of sale devices. When our campus is able to support NFC at all card reader locations, we will migrate from the magnetic stripe technology, to only supporting NFC card technology.