The CTLE Writing Center, with strong support from the Division of Information Technology, is now using a third party software solution to manage the scheduling, recordkeeping and reporting needs of the Writing Center called WCONLINE.
WCONLINE provides easy, web-based scheduling, as well as a comprehensive and customized recordkeeping in a secure and convenient way. The software includes features such as reminders, no-show policy enforcement, text messages, waiting lists, scheduling restrictions and online interfaces.  Students can easily browse available times, specialties and courses before making an appointment. Staff from the Information Technology Development and Applications area created an integration with WCONLINE that retrieves a student's courses and instructor names when they access the scheduling request form.
Writing Consultants can quickly review upcoming appointments, view student histories, check students in, and enter post-session reports.
Administrators have the ability to define what demographic, appointment, post-session, and survey data is collected, as well as to review sessions conducted through the included online consultation modules.
Each and every consultation is logged into the system, allowing for the collection and viewing of the data as customized, graphical reports in the system or exported as Microsoft Excel spreadsheets.
As a completely web-based product, no special software, hardware, or technical help desk support is needed to use the program. A subscription to WCONLINE includes support for an unlimited number of schedules, students, and staff. Support is always included, as are monthly updates, version upgrades, live backups, and customizations.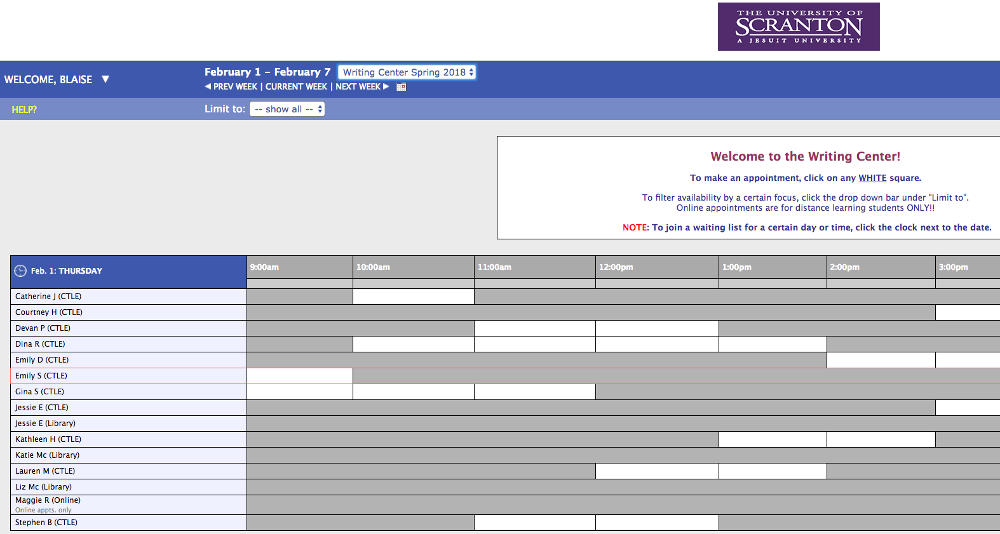 ---
Written by Aileen McHale, CTLE Instructional Technologist/Technical Operations and Projects Manager