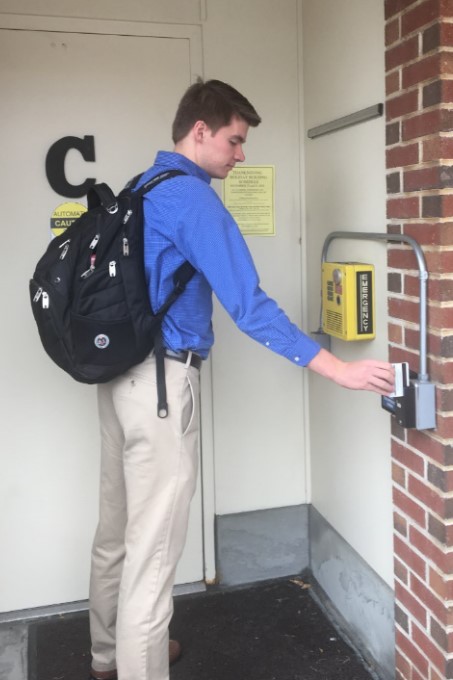 The University's ability to prepare for and mitigate an emergency always remains a priority. In the event of an emergency, University Police will activate the Emergency Notification System once it has been confirmed that there is any significant emergency or dangerous situation. Then we think, what next?
It was in October, 2015 when a shooting occurred at Umpqua Community College. The suspect went from one building to the next, as we watched those events unfold live on CNN. The reporter asked, how the suspect could continue to enter buildings, when surely Umpqua was in lockdown. Probably at a secondary school where there is typically a single building that would be easy. But we recognized on an open college campus, that's not always so easily done, especially with so many buildings. Back then, facilities manually unlocked and locked all the doors. And in an emergency could we really expect staff to start manually locking doors, and how long might that take? Consequently, we recognized the importance of implementing some measures to prevent what happened at Umpqua.
So in 2017, University Police, Facilities and IT embarked on a project to be able to remotely control all doors through the Blackboard Transact system. Now with the click of a mouse, most exterior doors can be put into "Royal Card Access Only" or in an extreme situation, a total lockdown. Educating the University Community on how these systems work during an emergency is an ongoing effort.
On any evening or weekend, access to all buildings requires your Royal Card. Should something happen either on or off-campus, we may decide it would be safer to control who has access to our buildings. We can now control access immediately through Blackboard Transact by requiring everyone to use their Royal Card to enter a building. We've decided to call this state, "Royal Card Access Only". This isn't a lockdown. Typically, classes and all university business would continue as scheduled, unless we decide otherwise. It's important to recognize that we could be in this controlled state, for hours or even days depending on the situation. Or depending on the incident or threat, we could direct everyone to take shelter by staying inside. If you found yourself outdoors, you would be directed to seek shelter in the nearest building, which would be communicated through our Emergency Notification System.
Depending on the situation we may decide we must go into a "Total Lockdown" where all exterior doors would be locked, and Royal Card access would not be available. Certainly, we'd prefer to give our community the ability to quickly enter a building, therefore this would have to be for an extreme situation where perhaps a suspect has compromised our security system and possess a Royal Card. The strategy is to keep those who are already in a building safe. If you were in a building and in a safe location, you would stay where you are. If you're not in a building you should immediately leave the area and seek safe shelter off campus, and not return until an all clear is given.
University Police continue to offer our Emergency Response/Active Shooter training. We've now incorporated these access control procedures into that presentation. You can also go onto our webpage to learn more, or reach out directly us by calling 570-941-7888 or stopping by in the Parking Pavilion.
Written by Donald Bergmann, Chief of Police at The University of Scranton