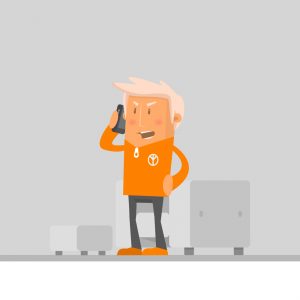 Your Caller ID may include "SPAM?" for known robocallers since December, 2018. This is an attempt by telecommunications carriers to help their customers determine if the call is valid or not. Scam calls made up a large share of the estimated 4.7 billion robocalls to mobile devices in May, according to YouMail, an app that helps block them. That's more than double the amount from two years ago. The Federal Trade Commission receives about 10,000 robocall complaints per day.
"We're all fed up with the tens of billions of illegal robocalls we get every year," Andrew Smith, director of the FTC's Bureau of Consumer Protection, said in a statement. Fighting "this scourge remains a top priority for law enforcement agencies around the nation." Carriers are always improving the algorithm used to determine which calls match the SPAM criteria. However, we will still continue to receive unsolicited calls from spammers/scammers.
The University's Information Technology Division frequently receives requests to block SPAM or other unwanted calls but we are faced with determining if the phone number is actually valid. The spoofed number may belong to someone who justifiably needs to contact the University so we cannot just simply block all requests for unwanted calls. Normally, the calls cease within a few days.
In an attempt to help, you can register your phone numbers with the "Do Not Call" list by calling 1-800-382-1222 from the phone number you wish to register or by adding the number through www.donotcall.gov. You can also register your personal wireless number to the "Do Not Call" list.
However, if your department is receiving an influx of calls, please contact the Technology Support Center at 570-941-4357 in order to immediately block the number and cease the interruption to your business day. If we determine the spoofed number is valid, we will need to unblock the number after a few business days and set up a time to test to see if the calls begin again.
For additional information on Caller ID Spoofing, visit https://www.fcc.gov/consumers/guides/spoofing-and-caller-id
—
Sources
"FTC, Law Enforcement Partners Announce New Crackdown on Illegal Robocalls." Federal Trade Commission, 5 July 2019, https://www.ftc.gov/news-events/press-releases/2019/06/ftc-law-enforcement-partners-announce-new-crackdown-illegal.