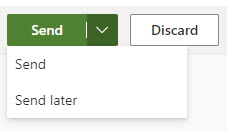 Outlook allows you to delay the delivery of an individual message or you can use rules to delay the delivery of all messages by having them held in the Outbox for a specified time after you click Send.
In the desktop version of Outlook 2019 for Windows, you need to leave Outlook open for the mail to be sent at a specific time and date. We do not recommend this even if you lock your screen, because doing so is not secure and may conflict with overnight maintenance updates.
As such, we recommend that you use Outlook on the web if you wish to schedule messages, as it does not require you to be signed into
Outlook to complete the mailing.
Instructions:
1. Go to outlook.scranton.edu (or go through my.scranton and select the Outlook icon in the waffle).
2. Compose your message.
3. Select the dropdown menu/arrow next to the Send button.
4. Select Send later.
5. Select the date and time you'd like the email to be delivered.
6. Click Send.