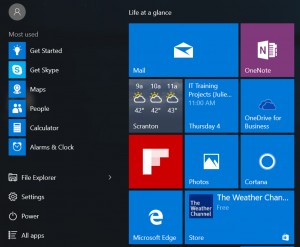 Windows 10, released by Microsoft last July, has been downloaded to over 200 million devices worldwide. This new operating system combines the look and feel of Windows 7 with the menu tiles introduced in Windows 8.
As with any new operating system release, some software applications or devices (such as printers, scanners) may not install or work correctly. This is why IT Services will be working with each department after a more thorough review has been completed. Computer upgrades will be gradual and necessary in order to keep our systems secure and compliant. Windows 7 will end its support on January 14, 2020.
When will my office computer be upgraded to Windows 10? How can I help?
IT Services is currently looking for volunteers to test Windows 10 alongside our IT staff to determine its compatibility with our University applications (e.g. AppXtender, iDOds, Banner, etc). Because office staff uses various applications to perform daily tasks, they are vital in providing us with feedback that will help IT with the campus-wide implementation. If you would like to be part of our early adopters team, please email itservices@scranton.edu.
Save the Date: IT Forum
Join us on March 17 from 11:30 a.m. to 1 p.m.  to learn more about Windows 10 features and the implementation process. IT staff will be available to answer your questions. A light lunch will be provided. Reserve your seat.
Training
A new operating system with new features also means that it's very different to use. Training sessions are currently being developed and will be offered in the coming weeks. Visit scranton.edu/it_training to review our training options.