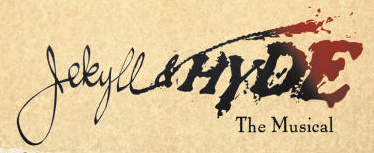 Looking for a scare?  This weekend, the Actors Circle of Scranton presents "Jekyll and Hyde," a Broadway musical based on Robert Louis Stevenson's novella The Strange Case of Dr Jekyll and Mr Hyde (haven't gotten to read it yet?  You can borrow it from the Library!).
Library staff member David Hunisch plays Simon Stride, Jekyll's rival.  I got to see the show last weekend, and David's performance as the pretentious Simon was spot on.  He did a fantastic job transforming himself into a villain.
Jekyll and Hyde will be at the Providence Playhouse in Scranton all weekend – the Thursday, Friday, and Saturday shows are at 8pm, and you can also catch a matinee on Sunday at 2pm.  Tickets are $15 for the general public, but students can get tickets for $10.  Call 570-342-9707 for reservations.
To David and the cast, from all of us here at the Weinberg Memorial Library — break a leg!