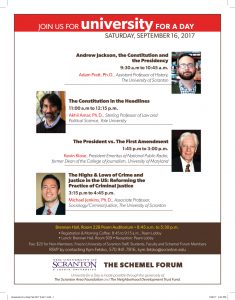 For more information and to RSVP contact Alicen.Morrison@scranton.edu / 570-941-6206
For more information on upcoming Schemel Forum events, click here.
Join the Schemel Forum for the first World Affairs Luncheon of the Fall 2015 season featuring a lecture by
Annie Cohen-Solal, Ph.D.
Cultural historian, Writer and Professor of American Studies at the Université de Caen
Mark Rothko: Immigrant, Artist, Pioneer
Although Mark Rothko has undeniably reached the status of an iconic artist whose paintings sell for about $80 million, he remains mysterious. Cohen-Solal approaches him through the lens of her social history research and unveils many fascinating aspects of his life and character. Rothko fought the narrow-mindedness of many US institutions and was deeply committed to giving all publics genuine access to art.

Thursday, September 17th, Noon to 1:30 pm
DeNaples Center, Room 405
A book signing will follow the lecture.
Cost: $20 pp / $30 per couple, free to Schemel Forum Members and The University of Scranton staff, faculty and students.
RSVP to emily.brees@scranton.edu or online by clicking here.
To view all the Schemel Forum programming for the fall, click here.