The 2023 Environmental Art Show:  Welcome to my World is now open!
Stop by or view it online!
Exhibits can be viewed in the Charles Kratz Scranton Heritage Room of the Weinberg Memorial Library from April 14-25, 2023.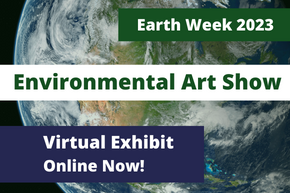 You can view the virtual exhibit at:
https://digitalprojects.scranton.edu/s/environmental-art-exhibit/
Environmental Art promotes the natural beauty of our environment and the ideal practice of sustainable living through artworks of all types, including painting, photography, repurposed goods, sculpture, and more.
On Friday April 14th, in conjunction with the opening of the Environmental Art Show, Artist Stéphanie Williams, a designer, beekeeper, and educator, will be leading an interactive presentation at 4:30 pm in the Charles Kratz Scranton Heritage Room.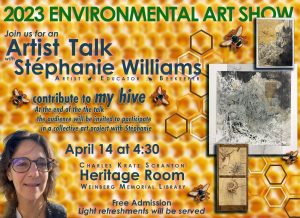 Stéphanie works in mixed mediums, incorporating nature, people, creatures, environments, sounds, and energies that we share into her art. She will discuss the relationship of bees to her art, her experiences as a beekeeper, and will address some of the environmental challenges facing bees and the American beekeeping community today. There will also be an opportunity to participate in a public art piece at the event.
Can't make the 4:30pm event but still want to participate in the public art piece – Stéphanie will be out in front of the Library today, April 14th, between 10-11am and 12-1pm. We invite you to join us, meet Stéphanie and help to contribute to Stéphanie's work.
All guests must follow the University of Scranton Health and Safety Protocols. If you have questions about this event, please contact Marleen Cloutier at marleen.cloutier@scranton.edu