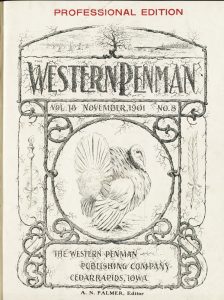 The University is pleased to announce that our substantial collection of Western Penman and American Penman journals has been digitized and is now publicly available online as a part of the Library's digital collections. The Western Penman can be accessed here and The American Penman here.
Contained within the Library's extensive Zaner-Bloser Penmanship Collection, the journal is one among many penmanship periodicals published during what is known as the "Golden Age" of penmanship, extending several decades before and after the year 1900. Austin Norman Palmer began The Western Penman in 1884. A contemporary and competitor of Charles Paxton Zaner (who would begin publishing his own journal, The Business Educator, eleven years later), Palmer created a simplified method of manuscript writing designed for speed and relying on muscle memory and whole-arm movement. Palmer's technique contrasted with the more ornate Spencerian script that was the standard of the time. The insistence on speed, evidenced even in Palmer's habit of closing letters with "Rapidly yours," aligned perfectly with the growing American obsession with the automobile and his ideas were soon taught in schools across the country. In 1900, Palmer began publishing separate student and professional editions of The Western Penman. In 1906, the publication was renamed The American Penman and ran until 1938, resulting in a total of fifty-five volumes of issues.
The Library's collection encompasses the entire span of the Penman's life cycle, although some volumes and issues are missing. While a substantial amount of the Library's penmanship journals, consisting mostly of the Penman's Art Journal and the Zaner-Bloser publications, were digitized in 2010 by the Internet Archive as a part of the Lyrasis Mass Digitization Collaborative, the Western Penman and American Penman journals remained available almost exclusively in their print editions. In 2017, twenty-two bound volumes were digitized by Backstage Library Works. Our digital collection now contains 519 issues, with a total of 17,119 page images. The master TIFF image files, which are stored in our digital preservation repository, add up to 652 GB.
We extend our warmest thanks to all of those involved in the process of making these journals digitally available! They are sure to offer great value, both historically and artistically, to our Library's users.
Below are examples representing various elements of the journal: examples of penmanship completed by students at a business school in Michigan, a page of exercises written by penman R. H. Robbins, and an excerpt from a detailed lesson by Palmer concerning his Muscular Movement technique. Palmer wrote that he considered his readers to be an "immense writing class" led by his teachings.