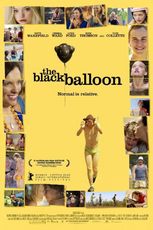 When Thomas and his family move to a new home and he has to start at a new school, he just wants to fit in. That becomes more difficult when his pregnant mother is hospitalized and his father puts him in charge of his autistic older brother Charlie. Thomas struggles with the responsibility since he both loves and is sometimes embarrassed by his older brother. Will the support of his family and new girlfriend be enough to help Thomas fit in and accept his often chaotic family life?
Director Elissa Down drew on her experiences growing up with two autistic brothers, and she offers a realistic and sympathetic look at a family with an autistic teenager.  The Black Balloon is in English and stars Rhys Wakefield, Gemma Ward and Toni Collette.
Please join us on Wednesday May 4th at 7 p.m. in Room 305 of the Weinberg Memorial Library for this free event. Professor Allison Lai will lead a discussion following the film.
This event is open to faculty, staff, students, and the public. Please email sharon.finnerty@scranton.edu for more information.