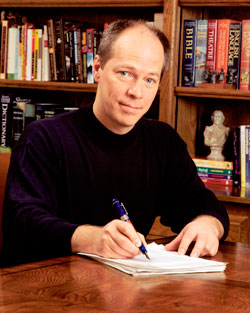 The talents and skills of the 2009 Recipient of the Royden B. Davis Distinguished Author Award, William Bernhardt, reflect many aspects of the contemporary library.  William Bernhardt is an author, a teacher, a mentor, a researcher, a composer, and communicator.
As an author, Mr. Bernhardt had sold more than 10 million books in various countries.  Library Journal has called him the "master of the courtroom drama."  The Vancouver Sun dubbed him "the American equivalent of P.G. Wodehouse and John Mortimer." He introduced the Ben Kincaid series in 1991 with Primary Justice and published the 17th in the series, Capitol Offense, in 2009. The Susan Pulaski series has two titles, Dark Eye and Strip Search.  Among his other novels is the collection Legal Briefs which also contains stories by previous Distinguished Authors Philip Margolin and Lisa Scottoline.   Royalties from the sale of this book benefited the Children's Defense Fund.  Contributors to the anthology Natural Suspect donated author royalties to the Nature Conservancy. His works for children include a biography of civil rights leader Ada Lois Sipuel, who broke the color barrier for higher education in Oklahoma and throughout the south.
In his recent book, Nemesis: The Final Case of Eliot Ness, Bernhardt solved the mystery of America's first serial killer, the so-called Mad Butcher of Cleveland, whose identity has eluded investigators for decades. In the most recent book in the Ben Kincaid series, Capitol Conspiracy, Bernhardt keeps the series fresh and contemporary with a story that takes attorney Ben Kincaid to Washington, D.C., for a high-profile case involving controversial anti-terrorist legislation, political skullduggery, and murder.  In 1999, he founded HAWK Publishing Group.  Each summer HAWK sponsors Writing Workshops to "nurture and mentor aspiring writers."  These efforts facilitate publication by new authors. In addition to mentoring new writers, HAWK has published books by acclaimed authors such as Pulitzer Prize-winning novelist N. Scott Momaday, Grammy Award-winning singer-songwriter Janis Ian, and PBS newsman Jim Lehrer.  His new book, Capitol Offense" is due out on Sept. 29th.
Among the awards Bernhardt has received are the Oklahoma Book Award for Best Fiction in 1995 for Perfect Justice and in 1999 for Dark Justice; the Southern Writers Guild's Gold Medal Award in 1998; a Career Achievement Award at the 2000 Booklovers Convention in Houston; and in 2000 the  H. Louise Cobb Distinguished Author Award, "in recognition of an outstanding body of work that has profoundly influenced the way in which we understand ourselves and American society at large."  (Contemporary Authors)  In addition to his law degree, Bernhardt also holds a Masters Degree in English.  His specialty field is Victorian literature.
I hope you will join us for this celebration of the works of William Bernhardt.  For ticket information, please click on the Distinguished Author web site or contact Kym Fetsko at 570-941-7816.
http://academic.scranton.edu/department/wml/distinguished.html
http://www.williambernhardt.com/
Charles Kratz