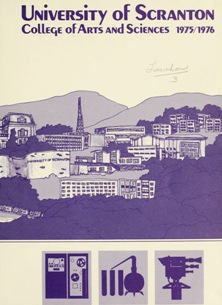 Digitization of special collections is ongoing at the Weinberg Memorial Library, and as a result we're happy to have one more digital collection available for public use this Spring.
Now online and fully searchable is the University of Scranton Course Catalogs collection, which includes 123 St. Thomas College and University of Scranton undergraduate and graduate course catalogs from 1926 through 2008.  These catalogs will be useful not only for former students seeking course descriptions, but also for local historians and genealogists interested in the University's history.
University course catalogs from 2007 and earlier were digitized in 2009 by Internet Archive as part of the Lyrasis Mass Digitization Collaborative, a group effort to digitize cultural heritage materials in which the Weinberg Memorial Library has participated since the Fall of 2008.  Each catalog was digitized in full color at 400 dpi, and each image was preserved in JPEG2000 format.  In order to save on server space and make the catalog images faster to download, we've uploaded PDF derivatives of those master JPEG2000s into our CONTENTdm collection.  As a result, some of the photographs in the catalogs may appear blurred.  If you'd like a higher resolution copy of a catalog, you can download the original JPEG2000s from Internet Archive by clicking on the Internet Archive URL, stored in each catalog's "document description."  And of course, the original printed catalogs are still available in the Library's University Archives and can be viewed by appointment.
Catalogs from after 2007 are born digital documents, which we've downloaded for preservation from University Catalogs web site.
If you have questions about the course catalog collection or about the digitization process, please contact the Digital Services department.  And don't forget to take a look at our other recent digital collections!