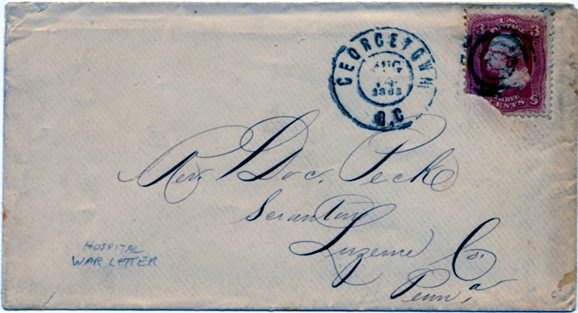 We're in the Scranton Times-Tribune today!  Many thanks to reporter Josh McAuliffe and photographer Michael Mullen for sharing the story of our exciting Civil War project.  Here's what it's all about:
This semester, students from Dr. Kathryn Shively Meier's Civil War and Reconstruction class (HIST314) partnered up with the Weinberg Memorial Library, the Lackawanna Historical Society, and the Everhart Museum to get a hands-on feel for local Civil War history.  Dr. Meier designed the class project in collaboration with Digital Services Librarian Kristen Yarmey to give the students a taste of what life as a historian, curator, or archivist is like while they simultaneously learned about the experience of the common man during the Civil War.
The class project kicked off with a visit to the Everhart's exhibit "With bullets singing all around me": Regional Stories of the Civil War, where the students got to chat with curator Nezka Pfeifer about how the exhibit came together.  The class of 33 students, most of whom are history majors, then split up into five groups, each with a specific task.  The first group worked at the Historical Society with executive director Mary Ann Moran-Savakinus and Pennsylvania Conservation Corps member Sara Strain, going through genealogical files to search for original, Civil-War era correspondence.  A second group of students focused on preserving those found letters in appropriate archival storage and prepared them to be lent to the Weinberg Library.
A third group of students spent time here at the Weinberg, digitizing the found letters and describing them.  The fourth group of students got a primer in 19th century handwriting from Dr. Meier and is currently working on transcribing the documents.  A final, fifth group of students will design a web page layout to interpret the digitized letters for the public.
The end result of the project will be a set of fully searchable, digitized, Scranton-related Civil War documents.  These documents will all be made freely available to the public as part of a local collaborative digital history collection called "Out of the Wilderness," hosted by the Albright Memorial Library.