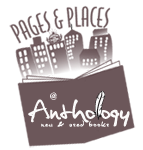 The Schemel Forum is joining forces as a programming partner with the new Pages & Places @ Anthology to present three programs this August.
Light in August, a series of conversations, is designed to shed light on subjects of both current and enduring interest in a friendly, informal setting.  All programs are free and open to the public and will be held at the Alley Kitchen & Coffee House (formerly Outrageous) at 515 Center Street in Scranton.  Programs begin at 6pm with a happy hour, continue with a 7pm presentation, and conclude with a guided discussion.
Thursday, August 11
Marcellus Shale: Two Citizens Speak Out
Bill Tersteeg, Professor Emeritus at Keystone College
Gretchen Ludders, Tunkhannock Watershed Coalition
Thursday, August 18
What Makes Classical Music Classical? Themes and Variations
Mark Woodyatt, one of the region's most gifted and virtuosic violinists
Thursday, August 25
Profile of a School that Works
Jennifer Niles, founding principal of one of the most successful charter schools in the country, the E. L. Haynes Public Charter School in Washington, D. C.