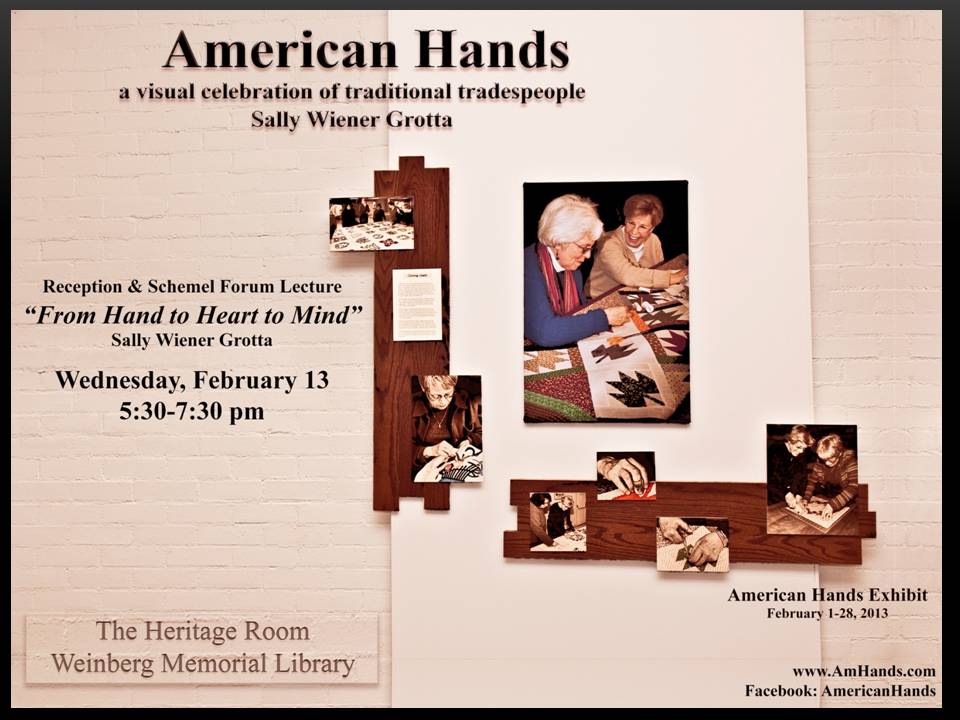 The Library's Heritage Room is currently hosting American Hands: A Visual Celebration of Traditional Tradespeople, a traveling exhibit of work by photographer Sally Wiener Grotta.
American Hands is Sally Wiener Grotta's ongoing narrative visual celebration of those individuals who are keeping alive the traditional trades that built our country's diverse culture. She has documented the work of artisans including a spinner, weaver, blacksmith, bookbinder and others. She has returned to their workshops over the course of months and years to document the different stages of their creations.  She documents the craft processes as well as the personalities of the individual tradespeople.
Sally began the exhibit as Pennsylvania Hands.  The constantly changing exhibit has been seen around the state and has now become a national project and renamed American Hands.
Sally is widely considered to be a pioneer of digital photography and computer graphics.  She has served as chapter president for the American Society of Media Photographers and has traveled on assignment to every continent including Antarctica.  Sally co-authored (with Daniel Grotta) the groundbreaking work, Digital Imaging for Visual Artists which is considered one of the first important works on the subject. The PC Magazine Guide to Digital Photography and The PC Magazine Digital SLR Photography Solutions are among their other books. Her photographs and articles have appeared in a wide variety of magazines and books.
There will be a reception featuring a talk by the artist on Wednesday, February 13 at 5:30 p.m. in the Heritage Room.  The reception is free and open to the public.  The exhibit, lecture, and reception are cosponsored by the Friends of the Weinberg Memorial Library and the Schemel Forum.  You can register for the event here.
The exhibit will be on display through the end of February.