One of our goals here at the Weinberg Memorial Library is to encourage thoughtful exploration of new technologies – we see experimentation as an important part of thinking and learning. Also, sometimes we just like to play with cool new toys. For both reasons, we were delighted to receive a visit earlier this summer from local drone photography team Access Aerial, who gave us the Library's very first drone flyover along with a demonstration of their equipment.
We'll confess – we had an in! Access Aerial's two pilots, Lee DeAngelis and John Culkin, are also staff members in the University of Scranton's Information Resources division. In their day jobs as Senior Systems Administrators, Lee and John help us keep the Library's infrastructure running smoothly. Off hours, though, they're out flying unmanned aerial vehicles (UAVs) over community events, giving us a new perspective on our local landscape. Back in June, Lee used his drone to capture aerial footage of the Scranton Cooperage fire, demonstrating the potential value of drones in local journalism (and even getting a mention in Fortune). In July, Access Aerial photographed the construction of the brand new library at nearby Marywood University (we'll admit that a tiny bit of librarian jealousy may have prompted us to set up our own appointment).
At the end of August, Lee and John brought over one of their Phantom drones for a demonstration at the Library. Their Information Resources coworker Ray Frey, also a UAV enthusiast, brought his own homemade drone along for the fun.
The results were phenomenal: a beautiful video of our Library and campus and gorgeous drone's-eye-view photographs.
As an added bonus, Lee and John came back to see us a few days later to do a "fly through" promotional video for our new Reilly Learning Commons!
We may have cheated a *tiny* bit. Shhh!
Overall, the experience has left us feeling quite majestic. From all of us here at the Weinberg Memorial Library, huge thanks to Access Aerial! We can't wait to see what you'll photograph next.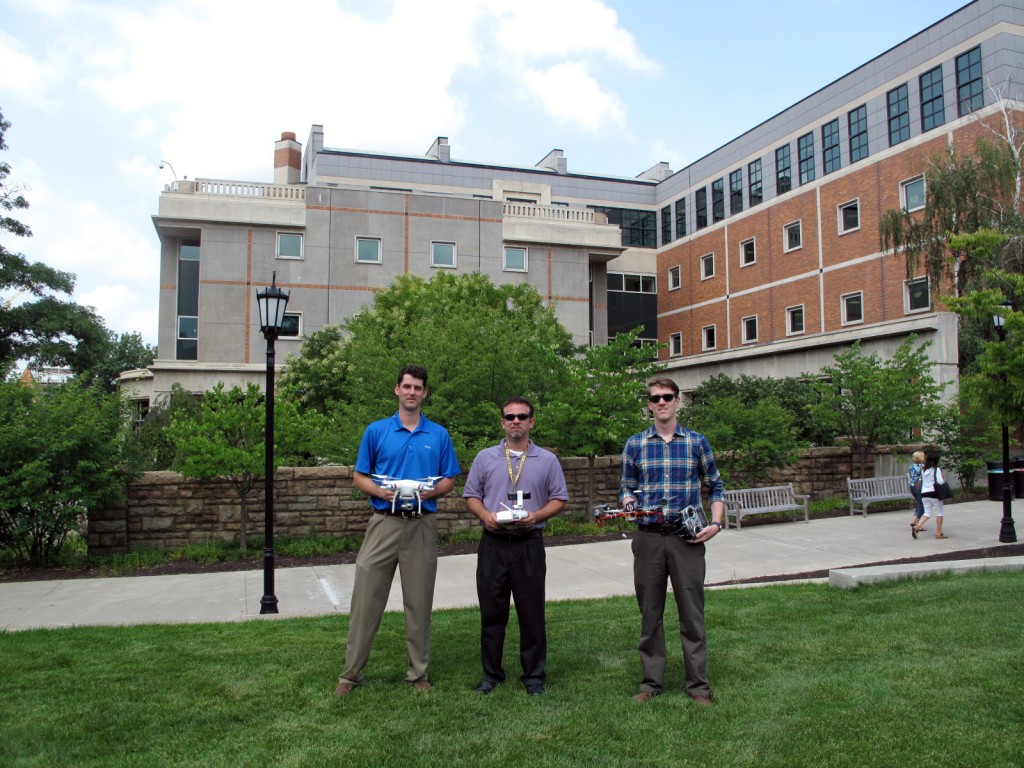 P.S. Feel like you missed out on the fun? Lee and John will be bringing a drone back to the Library on November 13, 2014 at 12pm for "Everything You Wanted To Know About Drones, But Were Afraid to Ask!" They'll be giving a presentation and demonstration (weather permitting) as part of the Library's Technology On Your Own Terms workshop series. Faculty and staff can sign up at www.scranton.edu/ctleregistration.