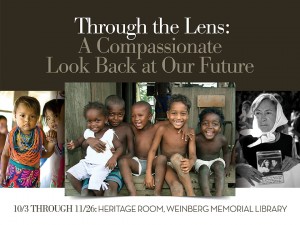 Now through November 26, the Library's fifth floor Heritage Room is hosting a traveling exhibit showcasing the social justice photography of Linda Panetta. The images and stories presented by Photojournalist Linda Panetta will take audiences on a moving journey, challenging their own reality of the world as they experience the joy, beauty, hope and sorrow of people affected by violence, sanctions, and misguided foreign policy.
Over the past 25 years, Panetta has traveled throughout Latin America and the Middle East using her firsthand knowledge and experiences in impoverished – war torn areas of the world, including Guatemala, Colombia, Nicaragua, (Chiapas) Mexico, El Salvador, Haití, Argentina, Chile, Perú, Uruguay, Ecuador, Panamá, Venezuela, Afghanistan, Iraq and Palestine, to advocate for environmental, economic and social justice. In her work, she captures the daily realities of life of the people she advocates for with the goal of raising public awareness about world events and the cost of war and its "collateral damage".
"When looking through the lens of a camera, you're ever so present to the details of one's face: the smirks, smiles and frowns; the wisdom and age that accompany the sun baked wrinkles, a depth of sorrow, joy, uncertainty,  curiosity and oneness in the eyes." – Panetta
Panetta's vivid photographs speak volumes and inspire others to act. Throughout the exhibit and talk (slide presentation), you will see and hear the prevailing sense of hope for a better tomorrow as inspired by the individuals in her photographs. Catch a glimpse of the world around you and its very soul in photojournalist's Linda Panetta's rousing stories and images.
Along with the exhibit held in the Heritage Room there are other events scheduled. Last Friday Ms. Panetta also hosted a First Friday Scranton event at the Connell Building where she exhibited a different set of photographs.
Tonight, October 6, Ms. Panetta will do a public presentation titled: Latin America Through the Lens: A Compassionate Look Back at Our Future. The lecture will be held at 7pm in theMcIlhenny Ballroom on the fourth floor of the DeNaples Center. The event is free and open to the public.
The exhibit and lecture are made possible by a grant from The University of Scranton Office of Equity and Diversity, Diversity Initiatives and the generous support of the Latin American and Women's Studies, the Weinberg Memorial Library, University Ministries, the Office of Multicultural Affairs, the Office of Community Relations and the Office of Equity and Diversity
To view a collection of Panetta's photography visit: www.OpticalRealities.org
Contact Michael Knies 570-941-6341 Michael.Knies@Scranton.edu for more information on the exhibit.
Contact Karl Kretsch 570- 941-4729 Karl.Kretsch@scranton.edu for more information on the lecture.