Join us for the first Schemel Forum World Affairs Luncheon of the spring semester!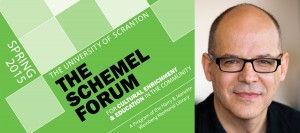 AMERICAN FOREIGN POLICY: IS HISTORY A USEFUL GUIDE?
It's been said that those who don't learn history are doomed to repeat it but too often leaders who act with history in mind nevertheless repeat it to their disadvantage. This talk will explore how history can be useful, even essential, to understanding the present, while also stressing that knowledge of the past is not enough; it must be supplemented by other approaches.
Fredrik Logevall, Ph.D.
Professor of History and Vice Provost for International Affairs
Cornell University

LOCATION/TIME: Brennan Hall, Rose Room 509, Noon to 1:30 p.m.
LECTURE & LUNCH FEES: $20 per person or $30 per couple
Click HERE to RSVP  or contact: emily.brees@scranton.edu or call 941-6206