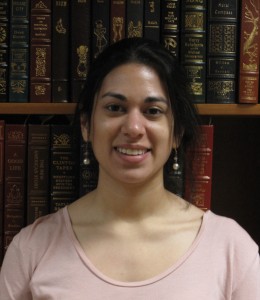 We can hardly believe that it has been two and a half years since Rebecca Edwards began working in the University Archives and McHugh Special Collections department! Time has flown by, and we will miss Becca greatly after she graduates this spring!  Before she leaves us, we would like to recognize all of her hard work and leadership in the department.
Becca began in the Library in the fall of 2012 and has worked on several ongoing projects, including accessioning files from the Office of the Provost into the University Archives.  She has also spent a great deal of time processing and accessioning negatives from the Terry and Paula Connors Collection.  A crucial role that she has filled this semester is helping to train three freshman student workers who are new to the department.  What Becca enjoys most about her Library position is working with the other student workers, and it certainly shows! She always maintains a friendly and articulate demeanor while collaborating on projects with other students and library staff.  Becca has been an asset to the department, and it has always been a pleasure to work with her.
Becca, who hails from Long Valley, New Jersey, is a senior Biology major and is currently on the hunt for a job for after graduation. Wherever she may find herself in the future, we know she will thrive and develop into a positive and confident leader! Throughout her time at Scranton, she enjoyed competing for the University's equestrian team. Her favorite books and movies are the Harry Potter and Lord of the Rings series, and a little known fact about Becca is that she was originally born in Brazil.
Thank you, Becca! And congratulations on your upcoming graduation!