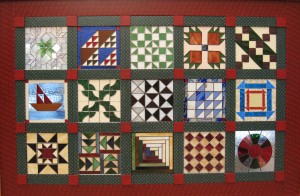 Honoring and celebrating Black History Month, The University of Scranton, in collaboration with The Center for Anti-slavery Studies, is pleased to welcome the Glass Artisans Chapter of the Pennsylvania Guild of Craftsmen to the Library's 5th floor Heritage Room.  The Glass Artisans will share their creative process in designing an exhibit titled: The History of the Freedom Quilts and the Underground Railroad in Northeast Pennsylvania.
Students, faculty, staff, along with Scranton area residents, are invited to a lecture/reception/book-signing on Tuesday, Feb. 24, 2015 from 5:00 p.m. – 6:30 p.m. Sherman and Cindy Wooden, founders of the Center for Anti-Slavery Studies will lead us with a lecture along with Dr. Pedro Anes of the Glass Artisans who will explain their creative process in designing the spectacular stained-glass "Freedom Quilt" Art Exhibit.
This project is supported by a Lackawanna County Community Arts and Culture Grant, a program of the Lackawanna County Commissioners Corey D. O'Brien, Jim Wansacz and Patrick O'Malley. The event is hosted by The Office of Equity and Diversity, Education for Justice, The Jesuit Center, Office of Community and Government Relations, Peace and Justice and the History Departments of The University of Scranton.
The exhibit is on display in the Library's Heritage Room until Wednesday, February 25, and the evening lecture will be held in the Heritage Room on Tuesday, February 24 from 5:00 to 6:30pm.
For more information, contact the Office of Equity & Diversity, 570-941-6645