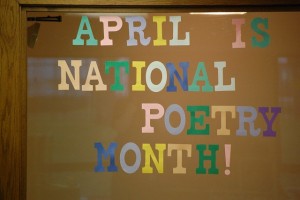 Image soure: Salem (MA) Public Library, via Flicker Creative Commons https://www.flickr.com/photos/salemmapubliclibrary/5615861539
April is National Poetry Month. To celebrate the last couple days of April with poetry, check out these library resources:
The Columbia Granger's World of Poetry Read the "Featured Poem" or find out what happened on this day in poetry history with "Poets Book of Days." You can also search for your favorite poet or poem or browse the "Poetry Sources" for different categories of poetry like Children's Poetry, Love Poetry, or Nature Poetry.
You could also take a look at the journal Poetry. Our online collection includes issues dating from 1998 to the present, and the print copies for the past two years are available in the periodicals section on the second floor.
If you have a special interest in a specific poet, poem, or type of poetry or you want to expand your poetic knowledge, search out Catalog with the keywords you are interested in. For example, you might try a search for "Emily Dickinson," "The Raven," or "epic poem."
Or you can celebrate by creating some poetry of your own!